Artist and gardener Margaret Rose Realy guides us through a book that aims to bring readers closer to Christ as they are creating an icon (yes! non-artists can do it too!).
Need an idea for Lenten almsgiving?
Help us spread faith on the internet. Would you consider donating just $10, so we can continue creating free, uplifting content?
Make a Lenten donation here
I love art books as much as garden books, and was excited to receive as a gift the book Drawing Closer to Christ: a Self-Guided Icon Retreat, by Joseph Malham (Ave Maria Press, 2017). Mr. Malham is an experienced iconographer at St. Gregory the Great Parish in Chicago, and teaches children and adults how to create icons.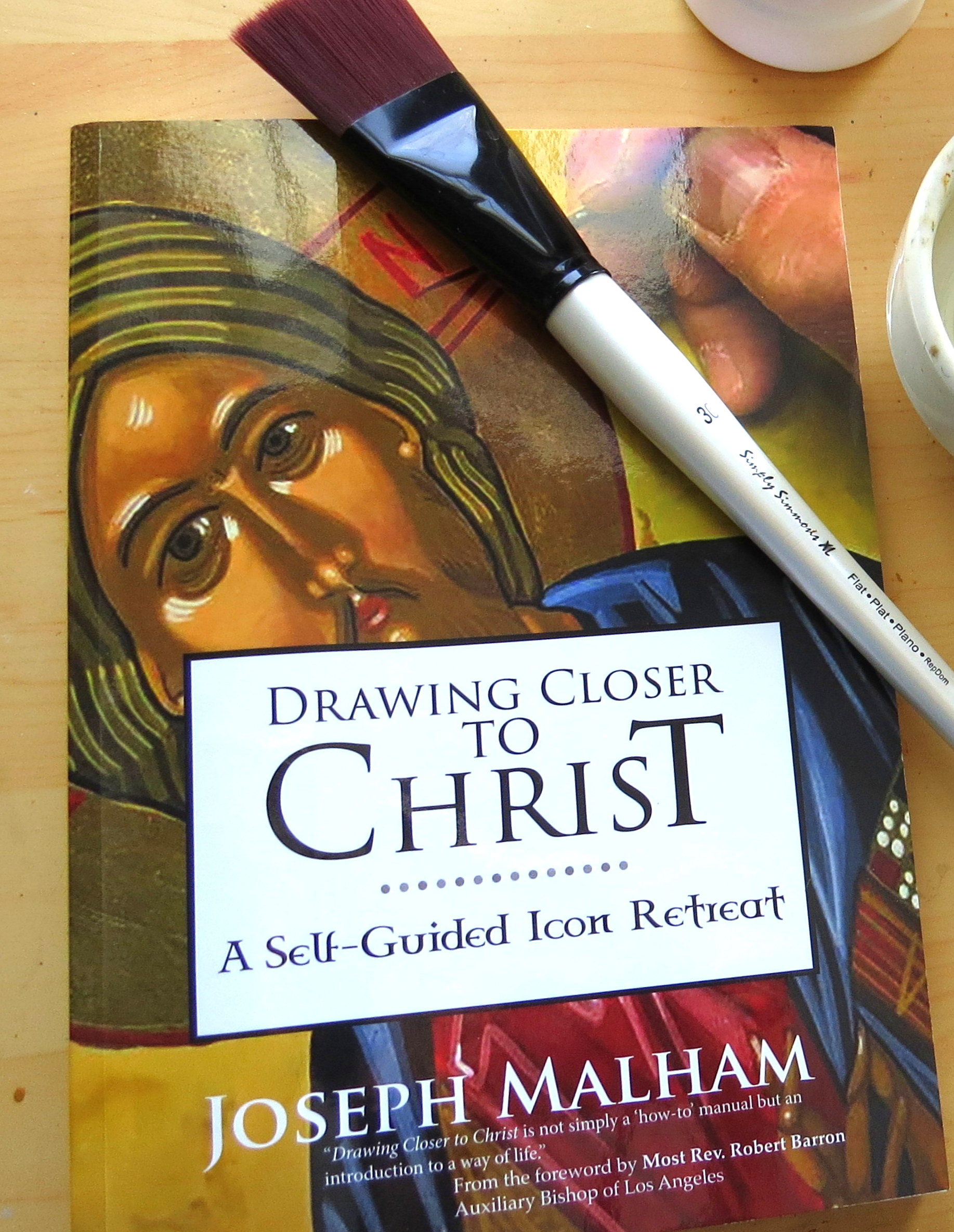 Encouraged by what little I saw skimming through the book—the how-to format with easy-to-follow instructions and figures—I was eager to paint a simple icon for my home oratory. But I stopped short.
One does not simply paint an icon!
As Bishop Robert Barron wrote in the Foreword, "An icon is intended as an evocation not of the artist's personality and skill but of the heavenly reality that the icon represents … it is a bridge towards transcendence and a route of access to God."
That access to understanding what is holy was read and understood through specific elements in the icon, originally to guide the faithful who were illiterate.
What did I know of those defining elements? Nothing. Suddenly I felt familiar fears and anxieties resurfacing and entwining – the fear I'd felt leaving a lifetime of gardening to try writing a book, the anxiety of the first day in painting class, wondering whether I had any talent.
I hid the icon book for weeks.
Recently, in a search for photos, I came across the icon book again. I had been excited when I'd received the book; maybe the Holy Spirit was encouraging me to revisit this art form. I was being nudged closer to Our Lord by undertaking this self-guided retreat.
Intimidated after reading the Foreword, I hesitated at the thought of creating the icon of Christ Pantocrator (the one instructed in the book). Offering a quick prayer, I read further to be reassured by Malham's easy voice, that of an experienced teacher.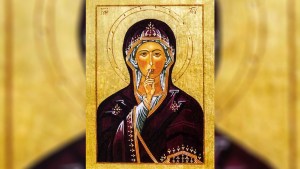 Read more:
Is an icon in the elevator the pope uses every day inspiring his prayer?
My doubts were first about the lack of drawing skill—which the author mentions is the prominent fear of most adults creating an icon—and secondly about my soul. Could I open myself for seven days of such a deep and personal encounter with Christ?
Before I'd even begun I heard the mental tapes of self-doubt start rolling—it will not be perfect, it won't look right, it will be so UGLY!
It took me a few days to settle down and embrace what Malham wrote. Looking back, there in the second paragraph of the Introduction, he nails it—and I felt the spiritual thump up-side my head.
He writes, "So much of our lives as human beings, but more to the point as Christians … is spent resisting the invitation to that which brings greater freedom. Freedom from sin brings us back to union with the community … from our fears brings us back to union with the world … from that which holds us back from growth and conversion brings us back to union with ourselves … from all that is not good and life-giving brings us back to union with God."
It felt like the Holy Spirit asked, "Did you get that?" So I read it again: "… resisting the invitation to that which brings greater freedom …"
Malham's confident and encouraging voice comes through in the pages of this unique book; I never felt as if I would be abandoned in the process to figure things out on my own.
Like a good cook, Malham offers a menu and then leads the reader through one 'recipe' at a time. He lays out what tools you'll need for the day, the particular paints, and simple, straightforward step-by-step instructions to pull it all together. At the back of the book is a complete list of supplies (which, if you're not stocked with the acrylic paints, can be expensive). Each day of the retreat, he offers a few paragraphs of theological reflection for that day's phase of painting, using the creation story as a framework and words of wisdom from the saints.
Inspired, I took a deep breath and committed to follow the retreat that Malham constructed in his book. 
Check back at Aleteia tomorrow for my progress.
Read more:
'Drawing Closer to Christ: A Self-Guided Icon Retreat'