The actor gave a lesson in etiquette worth following.
You might be surprised to hear that the actor and semi-retired pro wrestler, Dwayne "The Rock" Johnson, and the Duke and Duchess of Cambridge have a few things in common. As the new father posted on Instagram yesterday that he was "Blessed and proud to bring another strong girl into this world," his third daughter, Tiana Gia, William and Kate were leaving the hospital with their as of yet unnamed son. Yet the Hollywood star and the royal couple are similar in other ways, by also sharing impeccable manners.
When Katie Kelzenberg from Minnesota tweeted a cute invite to Johnson to her prom this May 5, she possibly never imagined that the star, who is a Christian, would respond, let alone treat her and 232 friends and family to a special private screening of his new film Rampage, with popcorn, soda, and candy thrown in.
The Rock explained in a video on Instagram that he came across a video from Kelzenberg asking: "Will you Rock it with me at prom?" He shared: "I was so impressed by this young lady's charm and confidence to even ask me (ladies always get shy in front of me) that I had to do something special."

He recorded a message for the teen that was to be played over her school's intercom last Friday morning, saying: "I'm sending a message to a very special young lady, and her name is Miss Katie Kelzenberg." He went on to explain how he'd not be able to go to her prom at Stillwater Area High School as he'd be filming in Hawaii — which seems perfectly reasonable as an excuse. He then outlined the treat he had in store for Kelzenberg and her friends and loved ones for the following day.
What is truly impressive is that while he was waiting for the imminent arrival of his newborn, the actor still took the time to make sure his huge fan would not be disappointed. And by organizing with the school and her local movie theater the group trip with all the goodies included, he ensured that Kelzenberg knew he was thinking of her.
As the message continued playing in front of her AP Statistics class we can see the teen's reaction thanks to a video posted online. Obviously shocked and overjoyed that the "Rock" had taken the time to respond to her invite, she also seemed thrilled that he referred to the senior as his "best friend" many times. It's as if he knows how difficult those teen years are, and that having a heavyweight movie star back you up brings pretty major kudos.
Yet, what's most impressive was his shoutout for a "chivalrous young man" to take Kelzenberg to the prom in his place. Later, the Pioneer Press reported that she'll be going with friends instead.
The affable star, a Christian, who is renowned for his kindness with fans, hasn't always found things easy; opening up about his battles with depression and fear for the future. He realized, "I just have to put my faith in God and continue to work hard and hopefully good things will happen." And perhaps he wanted to share this message with Kelzenberg who took the courage to reach out to her favorite movie star, who has now become her "best friend."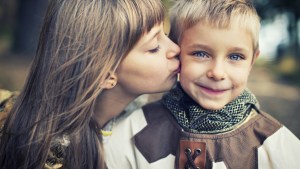 Read more:
Why I'm teaching my young son good old-fashioned chivalry