Jesus wouldn't have given us a goal that's unattainable.
For a long time I thought I was above that weird "cool kids' table" adult peer pressure thing. You know, just because it's not my taste to go to Disneyland or flash pictures of my kids riding rollercoasters on the vacation they never had there — I thought I was so aggro. But the fact is Disneyland just isn't my cool kids' table. I do have my own, however, and the conversation there sounds more like this:
"Do you cloth diaper?"
"Yeah, but we only use organic cotton … oh, and I sew my own …"
Sew your own? Diapers? We're talking about the things your kid poops on, right?  
We're all tempted to seek validation from our peers, when as Christians we should seek assurance first and foremost from Our Lord. And it's only gonna get worse next month. Yup, high school graduation is right around the corner — the time when students are supposed to be pushing away from the cool kids' table. But when in reality they (along with their parents) are only spotting it for the first time.
Here's the loaded question going around:
"What are you/ your child going to do after graduation?"
Now before you answer, imagine that the very best reply would be:
"Stay home, work at Pizza Hut and pay rent." Sure, that's not the answer anyone wants to give. But what if Pizza Hut and paying rent is the exact plan that would best suit a certain youngster and at the same time would teach the young person faithfulness and diligence (without racking up thousands of dollars in debt)?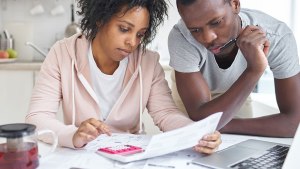 Read more:
The 5 money personality types: Which one are you?
Faithfulness and diligence — they're just a few of the virtues that come to mind when I think of holiness. But what actually is holiness? 
Well, the Church calls it nothing other than "the purpose of our lives."
It's "a life united with God's in love — not some sort of 'self-made perfection'; rather, a union with the incarnate love that is Christ; 'sainthood' — that is what it means to be holy."   (Youcat 342)
Jesus wouldn't have set before us this goal of sainthood if it were unattainable. Also, he could have just as easily said, "Be smart as I am smart" or "Be a carpenter as I'm a carpenter" or "be the best 'sew-your-own-diapers-crunchy-mama' … "
But he didn't. And that's a relief, because while we all can't be handsome or successful in the ways of the world — we can all become saints (by God's grace and by our response to that grace). With holiness now as the ultimate goal of life, the "cool kids' table" looks a little different — it's one full of saints and martyrs who started off just as human as you and me, but who at some point in their lives, and very often at many points in their lives, echoed Our Lady's fiat. In short — they said "Yes" to God.
Pope Francis released an Apostolic Exhortation "on the call to holiness" just the other day. Titled Gaudete et Exsultate, which is Latin for "rejoice and be glad," the exhortation is a reminder that holiness is the goal of every Christian:  "We are frequently tempted to think that holiness is only for those who can withdraw from ordinary affairs to spend much time in prayer. That is not the case. We are all called to be holy by living our lives with love and by bearing witness in everything we do, wherever we find ourselves."
Brother Anthony Freeman, the 28-year-old seminarian who carried the papal cross on Easter and then died that same night from an undiagnosed heart defect, had a lot to say about holiness in his book One Step Closer:
"Following God's will, living a virtuous life, and being Christ to others all play a part in reaching our true potential and being happy here on earth. It's true that complete happiness is only possible in Heaven, but by being holy, we can begin to experience some of that heavenly happiness on earth. This doesn't mean that we won't suffer or be sad, or that our lives will always be happy. The happiness of holiness goes beyond a fleeting emotion and becomes a state of being."
Happiness — isn't that the end goal of keeping up with the Joneses anyway?
Sadly for us, Brother Freeman left behind his earthly body because his heart — in more ways than one — had simply grown too big. I imagine right now he's partying at the ultimate "cool kids' table" surrounded by his many heroes of the Faith, as those are the only "Joneses" Brother Freeman cared about "keeping up with."
If you haven't already checked out his book, which speaks particularly to Millennials in a special way and offers practical "motivational hacks" for achieving sainthood  —  pick up a copy for yourself and that young graduate in your life. Brother Freeman, pray for us.
Read more:
Why women compare themselves to each other