Truckers on a Detroit highway banded together -- literally -- to save a life.
No less than 13 semi-trucks lined a Detroit highway until after 1 a.m. as a man considering suicide threatened to jump from the bridge overhead. After the highway had been closed, Michigan police requested that semi drivers in the area park under the overpass to shorten the distance the man would fall if he jumped.
There is some confusion with the photo taken this morning. This is not an MSP photo as we don't share law enforcement tactics. This photo was taken by a photographer at @FOX2News that was also doing their job this morning at the scene. pic.twitter.com/ONlsDULGys

— MSP Metro Detroit (@mspmetrodet) April 24, 2018
After several hours of talking to the police, the man left the bridge voluntarily and was taken to a nearby hospital.
With the combined efforts and generosity of the police and the drivers, the situation was resolved safely and peacefully.
If you or anyone you know is experiencing emotional distress, please call the 24/7 National Suicide Prevention Lifeline at 1-800-273-8255, or text 741-741.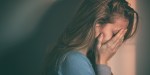 Read more:
Let's talk about suicide