Let's stop focusing so much on the bullies, and start empowering the victims.
You can get Aleteia inspiration and news in your inbox. Our specially curated newsletter is sent each morning. The best part? It's free.
Sign up here
A few weeks ago, my daughter came home from school complaining about being bullied. Again. Bullying has been an ongoing problem for her, one that we've attempted to address in a number of ways. But I'm coming to realize that bullying is an ongoing problem for all kids, no matter who they are or what school they go to. Being bullied can even be a problem for the kids who are, themselves, bullies.
This is because at its root, bullying isn't an aberration in human behavior. In fact, it's a fundamental ingredient in social dynamics that can be disproportionately exercised and/or experienced during the time when kids are learning to navigate social dynamics.
I came across a fascinating video on Facebook the other day from social skills educator Brooks Gills, a social skills educator who has a radical approach to bullying that has nothing to do with stopping the bully and everything to do with teaching the victims emotional resilience.
People think the way we get rid of bullies is by kicking them out of school, but that's not effective. All bullying is, is a study of dominance behavior; someone has power over you. If it's an imbalance of power, the answer to stop this is to empower the weak one. If you interview any school shooter, they will tell you they were victimized. And when I see students with social and emotional issues, I realize there's a kid who's never been taught how to protect his heart from adversity. They need to be taught, lest they hurt themselves or hurt others in retaliation.
My daughter's current struggle is far less severe than her past experiences as a victim — in fact, it's much closer to "normal" pre-teen power and popularity struggles. That doesn't make it right, but it's real, and it's a social dynamic she will literally encounter for the rest of her life.
With that in mind, I've been changing up my approach a little. Rather than try and help her find ways to avoid the girl or run interference with the administration, I've been trying to teach her how to manage her own emotional reactions. I keep telling her that it's wrong and unfair, but it's a real aspect of life and people will treat her and others this way for as long as she lets them. The key, I keep telling her, is not to give them the power to hurt you by taking back your own power.
I've encouraged her to take power back by walking away, or by staring blankly and not responding, or by laughing at every mean thing the girl says. Sienna has a million reasons why she can't do those things or why it won't work, but I tell her to keep trying.
It's not an easy lesson to teach because it's not an easy lesson to learn. I still struggle to walk away from slights both real and perceived, and once I've walked away I struggle to let it go, to keep myself from dwelling on them and magnifying the emotional fallout. But the reality is that we live in a world where people are unkind and where social dynamics are often defined by the struggle for power. As long as that's the case, it's my obligation as a mother to teach my kids to be emotionally resilient — for their own sake and the sake of others.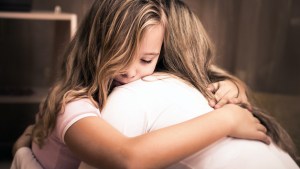 Read more:
How to listen for clues that your child may be getting bullied