By creating unrealistic expectations, we set ourselves up as parents to feel like failures.
As human beings, we naturally like to project what our future might hold, so most of us will have given some thought to our life once children come along (if they haven't yet), and what we will and won't do as parents. In particular, we might have thought about what behavior we will and will not tolerate, what things we'll avoid, and what we'll favor. A wonderful list of principles inspired by our own childhood, or experiences we've been through later as adults.
Obviously, it's completely honorable and legitimate to have preferences relating to the education of our little ones; nevertheless, reality often catches up with us. While our ideals and principles seem wonderful on paper, life has a funny way of throwing a few curve balls that require us to think on our feet, adapt, and learn. Nothing is set in stone! Becoming a parent involves a whole new learning process, one which necessitates a multitude of practical and mental changes, requiring flexibility and adaptability.
So, how do we cope with having to rethink our expectations while staying true to ourselves, and considering the well-being of those around us? There's an expression that goes: "Before, I had principles; now, I have kids …" We should ask ourselves, "Does changing our mind really mean forgetting our principles?"
Here are some of those common parental expectations that we aspire to, yet often fall short of, whether due to unforeseen circumstances or to sheer fatigue.
Food: I'd never feed my children pre-packaged meals …
You thought you'd always cook meals yourself with the best fresh products … Up until that night, where, exhausted after a tricky day at work, you had no more energy to rustle up a homemade meal. It doesn't matter, as long as it's more the exception than the rule — it's never killed anyone, has it?
Losing your temper: I'll never get angry, and I'll never raise my voice.
Yet, one day you surprise yourself, and despite your best intentions, you give way to anger and fatigue. You might even scold your kids, threatening them with unjust punishments, even though you'd promised yourself you'd never do that.
Screens: They'll stay away from screens during their early years …
Except that one day when you said to yourself that a little cartoon would give you 20 minutes of "freedom" to get something done … And inevitably, your little one finds their way on to your telephone or tablet, just like the other children in your close circle, despite your best efforts to limit their exposure.
Activities: Every weekend we'll play games and go on educational and sporty outings.
Despite plans and promises, there are also weekends where, in the end, you stay at home without achieving much. There's no point in feeling guilty; there are many experts who advocate the benefits of boredom in children. These moments are therefore also very important, and educational!
Clothing and stereotypes: I will never dress my daughter in pink, my son in blue, my twins in identical clothing …
But in fact, seeing them matching is just too adorable! And your daughter loves pink and sequins … It's so difficult to resist their taste and their favorite colors! Better they be happy, whether in stereotypical colors or not, as long as it's decent clothing.
How to let go of preconceived ideas and unrealistic principles
Let go without feeling guilty
In the end, despite all your best-laid plans that you had at the beginning, you sometimes feel that you've failed in your role as "model" parent, or at least, the one you'd set out to be. Expecting a child is like expecting a promise of an "ideal" life, according to your criteria. However, once your baby arrives, reality doesn't line up with our fantasies, and we can be in for rude awakenings (not just due to babies crying at midnight) about ourselves and about parenting. This happens right from the beginning, especially when tiredness sets in, along with those sleepless nights … What should you do to weather the storm?
Don't compare yourself with others
One of the first things we must do is stop looking at what others own, or what they're doing and thinking. No two situations are the same; each person is unique, and things change over time. You'll feel less guilty if you accept that you have to do things your way, as best you are able.
Put things in perspective and adapt your ideas
Another important point: bear in mind that each child is an individual, with his or her own personality, abilities, and character. Therefore, you might sometimes apply certain things to one child but not the next. It's the golden rule of adaptation. Each moment is unique, the context varies, and the means you have may differ from one moment to another, so it's always a good idea to readjust your principles by asking yourself what is possible and what isn't.
Learn to accept reality over your expectations
We will inevitably come to the point of needing to choose between expectations and reality. Gradually, during the education of your children, you will have to accept many things: your children have their own identities, just like you, probably different from the one you'd imagined. In the outside world your children will be faced with situations from which you'd rather protect them. As a result, you must realize that you can't control everything, and that your children will go through a whole learning process based on their own experiences and contact with others.
Don't blindly replicate past family practices and traditions

Is there anything you absolutely have to do in a certain way? Perhaps your parents taught you something a certain way, and you never asked yourself exactly why. Take the time to think about the legitimacy of your principles, and ask yourself if they're still valid, coherent, and justified today for you and for your children. Every now and then, we subconsciously and automatically copy what we learned as a child, even though it might not be not as pertinent in our situation today. Principles (if they really are principles) don't disappear, but their application does evolve!
Recognize the feelings hidden behind your principles
Why do certain innocent but "risky" behaviors of our children make you angry? Might it not be that deep down you're jealous, because as a child, you were not allowed to do it? At times, it's a good idea to really ask yourself, in concrete terms, why you think the way you do, and what emotions a given situation stirs up in you. Sometimes you just need to relax, let go, and laugh, even in the face of inappropriate behavior. Will this incident really put at risk your child's entire education? Sometimes the best moments happen when a few rules are broken … even (especially?) the rules you yourself have created!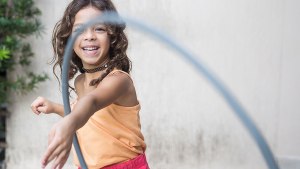 Read more:
Want happy and well-educated children? Try this