This prayer comes from St. John XXIII.
Peace always seems to evade us, always out of reach. Just when one part of the world starts to calm down, war and strife rise in other parts of the world. It is a sad fact of reality, one that can cause anxiety for many of us.
Yet, our God is a God of peace and greatly desires that we lay down our arms and strive to reconcile ourselves with each other. It may not seem like that is a possibility in our day, but anything is possible with God.
Here is a short but powerful prayer from St. John XXIII that calls upon God to intervene and establish a lasting reign of peace.
Lord Jesus Christ, who are called the Prince of Peace, who are yourself our peace and reconciliation, who so often said, "Peace to you," grant us peace. Make all men and women witnesses of truth, justice, and brotherly love. Banish from their hearts whatever might endanger peace. Enlighten our rulers that they may guarantee and defend the great gift of peace. May all peoples of the earth becomes as brothers and sisters. May longed-for peace blossom forth and reign always over us all.
Looking for more prayers? Check out our page of "Prayers for a Particular Need."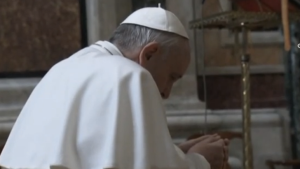 Read more:
Pope says he is praying unceasingly for peace, and we all must do the same