Even Pope Francis became a devotee from JPII's example.
What can God do in your life with one Bible verse a day?
Subscribe to Aleteia's new service and bring Scripture into your morning:
Just one verse each day.
Click to bring God's word to your inbox
If it wasn't for St. John Paul II, I wouldn't have spent the last 17 years saying a daily Rosary with my family.
I'm not alone, either. As I explain in my new book, The Rosary of Saint John Paul II, there are many, many people who can say the same thing. How did John Paul do it?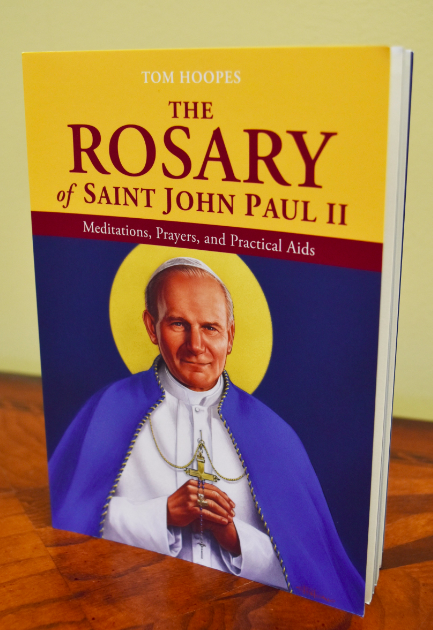 1: St. John Paul made the Rosary new and exciting again.
As I tell students in my class at Benedictine College in Kansas, John Paul II was a mastermind of strategy who knew how to get big things done in the Church. He didn't just say, "Young people, come back to Church!" — he created World Youth Days. He didn't just say, "Be faithful to Catholic doctrine" — he created the Catechism. He didn't just invite Catholics to return to Jesus — he created the Great Jubilee of the Year 2000.
He also didn't just urge people to pray the Rosary — he added five new mysteries to pique our interest and created a Year of the Rosary to insure the whole Church joined in.
2: John Paul connected the Rosary to the big issues that were on everybody's minds.
My own family's commitment to the Rosary began in 2001 when, in the wake of the September 11 tragedy, Pope John Paul II urged Catholics to pray the Rosary for peace in the face of terrorist attacks.
It deepened when, the following year, he urged Rosaries for another institution under harsh attack: the family.
His faith in the Rosary was contagious. "I look to all of you, brothers and sisters of every state of life," he urged, "confidently take up the Rosary once again. … May this appeal of mine not go unheard!"
3: He made the Rosary easier to pray.
My book outlines the practical suggestions St. John Paul makes for praying the Rosary.
One of my favorites: Instead of the Creed, he suggests opening the Rosary with a simple invocation from Psalm 70: "O God, come to my aid; O Lord make haste to help me." We still say the Creed occasionally, but removing the long opening prayer makes the prayer a lot less daunting for my children — and for their dad, too.
Read more:
John Paul II and protective power of the family rosary
4: His method deepens the experience of the Rosary.
Other tips St. John Paul gives are not necessarily time savers, but they help the Rosary put down roots in one's life.
He suggests using sacred art, praying for a specific fruit with each mystery, and adding a clause after "Jesus" in the Hail Mary. So, for instance, in the First Luminous Mystery the book provides an image of the baptism of Jesus, a fruit ("to be faithful to my baptismal vows") and words to add to the Hail Mary ("… blessed is the fruit of your womb, Jesus, baptized by John.")
John Paul also urges that the Rosary be accompanied by Scripture — and, in addition to brief meditations, the book offers 10 verses per decade.
5: He promoted Rosary saints.
St. John Paul II is probably the most significant "Rosary saint" of our time, but he brought others to public attention. He beatified Blessed Bartolo Longo, whose survived the occult through the Rosary. He canonized Padre Pio, who called the Rosary "the weapon." He constantly promoted St. Louis de Montfort, author of The Secret of the Rosary.
And then, of course, he beatified the Fatima children, Blessed Jacinta and Francisco Marto …
6: He connected the Fatima message with the Church's future.
John Paul was a huge believer in Our Lady of Fatima.
He credited his life to Our Lady's visitation to three Portuguese children after an attempt on his life failed on the apparition's anniversary.
Fatima's message, a plea for conversion and daily Rosaries, "must be taken up by generation after generation," he said. "It must ever be taken up anew."
7: But he promoted it most of all simply by praying it.
Before he became pope, Francis wrote about the power of Saint John Paul II's example. "One evening I went to recite the Holy Rosary that was being led by the Holy Father. He was in front of everybody, on his knees," he wrote. He was so moved that "from that time on I recited the 15 mysteries of the Rosary every day," he said.
I know what he means. For many of us, seeing the great man with a rosary in his hand started a journey that will last a lifetime — and beyond.