But it wasn't a mistake. Canadian couple Bethani and Tim Webb were truly blessed.
What can God do in your life with one Bible verse a day?
Subscribe to Aleteia's new service and bring Scripture into your morning:
Just one verse each day.
Click to bring God's word to your inbox
Bethani and Tim Webb, of Alberta, Canada, got married in June 2015. Shortly thereafter, they discovered Bethany was pregnant. There wouldn't be anything special about that fact, if it weren't for a "small" detail, which the parents-to-be learned soon after.
The father almost fainted during the ultrasound
During the ultrasound, they found out that Bethany was carrying four babies! This is all the more unusual because Tim and Bethany hadn't used any fertility treatments, and they were expecting identical quadruplets. According to medical statistics, a pregnancy like that happens once in 15 million. The future father nearly fainted when he heard the news, while Bethany simply thought it was a mistake. There were no such cases in her or her husband's family.
A quadruple pregnancy, like all multiple pregnancies, is difficult. Fortunately, mom and the girls were all fine, and in June 2016, a year after Bethany and Tim's wedding, four healthy baby girls were born via C-section. Their names are: Abigail, McKayla, Grace, and Emily. Abigail is the oldest, but she was faster than others only by a minute or two.
Soon after, the parents had to figure out how to distinguish among four almost identical little girls. Early on, then they came up with the idea of painting their fingernails different colors in order to tell them apart. Another way was simply watching the girls, who quickly started showing their different characters. Abigail was feisty; Emily was active; Grace liked to look at people; and McKayla was very calm, but also loud. Today the parents can also tell them apart by different earrings.
To help meet the unexpected costs of having their family triple in size from two to six people, a friend of the Webbs opened a GoFundme page, which to date has raised nearly $12,000. Two years later, the girls are thriving, and their loving parents share their antics on the girls' Facebook page (get ready for a cuteness overload!) — unfazed by the unsolicited parenting advice that abounds in the comments.
In a world where not all children are loved and welcomed, the Webbs — and many people on the web — provide an inspiring example as they continue to rally together to help care for four beautiful little girls.
Read more:
These adorable triplets will melt your heart (PHOTOS)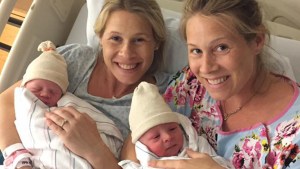 Read more:
Identical twins give birth within hours of each other