Before we can teach our daughters, we have to first make this commitment to ourselves.
Send us the names of your loved ones who are sick or suffering. The Aleteia prayer network of 550 monasteries will take them to prayer for the World Day of the Sick.
Click here to share your intentions
As parents, we all want our daughters to have a healthy body image and to know they're beautiful. But thanks to social media, advertisements, and a world where it seems like every day there's another story on sexual harassment, this can be a tough goal to achieve, especially since we can't control the world outside of our homes. And while a world focused on perfect, often photoshopped appearances does have an influence on the way our daughters view their body, mothers can actually influence their daughter's self-esteem and body image more than we think.
We tell our daughters that they're beautiful, and that their bodies are so much more than something for others to objectify. Yet we also comment about how much we eat at holiday parties. We comment at the shape of women's bodies on TV, or on the covers of magazines at the grocery store check out line. Jokes with other moms about how much we all dread swimsuit season are often exchanged during play dates. Worst of all, we stand in front of our bedroom mirrors getting dressed in the morning and talk about how our jeans don't fit like they used to.
Even if we compliment our daughters every morning, if we comment on our own figure with snide remarks and sighs of exasperation, we may be doing more harm than good.
"The only way that a mother can truly be present, engaged, connected, and nurturing with her child is if she is present, engaged, connected, and nurturing with herself," writes Julie Burton, author of The Self-Care Solution: A Modern Mother's Must-Have Guide to Health and Wellness. "The only way she can be connected with herself is if she does what she needs to do to care for herself with an honest and meaningful manner. This is the true essence of self-care for mothers."
Mothers have an incredible influence in the lives of their daughters. But if we want our daughters to believe that they're beautiful, we also have to start believing that our own bodies, personalities, emotions, and quirks are beautiful, too. Loving ourselves as mothers can be a daunting task, so we've gathered expert tips on how to facilitate growth for your own self-esteem.
1. See your body through your daughter's eyes
As mothers, it can be easy to view our bodies through the lens of "before kids" and "after kids." We criticize our stretch marks, the bags under our eyes, and the five pounds that we just can't seem to lose. But your daughter doesn't see your body the way you see your body. She sees your strong arms that carried her when she couldn't even hold her head up. She sees warm eyes that smile at her despite the lack of sleep.
In a blog post titled "To My Daughter, Who Walked In on Me Judging My Body," appearing on The Mighty, Shelby Eckard, a mother of two who lives in Atlanta, wrote of her hypocracy:
"Today, as I stood in the mirror, half-clothed, crying, thinking about how uncomfortable I was in my own skin, I failed. Your little arms hugged me. You grabbed me right on the stomach I had just wished away. You ran your fingers over the stretch marks I try so hard to hide. You looked me right in my puffy, tear-filled eyes and said, 'Pretty Momma!'… As you grab my body, the same body I cried over moments before, I see through your eyes. You see me just as I am: beautiful and worthy. And I remember it, too."
The next time you're tempted to call yourself "fat" or to think about how that dress used to fit before kids came along, stop and think about the way your daughter sees you.
2. Remember your words matter
According to a recent report from Common Sense Media, girls between the ages of five and eight who think their moms are dissatisfied with their bodies are more likely to feel unhappy about their own bodies. The report found that body image begins to develop at a very early age and that parental influence played a large part in whether a young girl thought she was beautiful or not. Remember that you are your child's first teacher and that you have a lot of power to shape their attitudes, values, and behavior when it comes to their body image.
"If you are talking negatively about yourself and she sees you engaging in dieting behaviors and acting critical about yourself constantly, then she, no matter what you say to her, she is going to feel badly about herself," said Laura Choate, who is also author of Adolescent Girls in Distress: A Guide to Mental Health Treatment and Prevention. But the journey doesn't stop with just not saying bad things about our bodies — as mothers, we also have to verbalize an appreciation for our bodies to our daughters. Start by saying what you appreciate about your own body.
3. Reassess how you talk about your diet
Because children can pick up body image cues from their parents, daughters of women who diet are more likely to have a negative view of their body and start dieting earlier themselves. We want our children to eat healthy and grow up to be strong. But do we think about food for ourselves that way? Or do we go on and off diets in hopes of finally losing that five pounds? This doesn't mean you should abandon your health and not care about what you put into your body. Instead, focus on healthy eating better all the time (not just when you're on a diet!).
By encouraging a healthy relationship with food for yourself, you can encourage your daughter to have an appreciation for good nutrition.
4. Become the woman you want your daughter to be
When we stop the criticism we shower upon our bodies as mothers, we're taking great strides to build up self-esteem in both ourselves and our bodies. After all, if our daughters only hear us complain about our waist size and larger hips, they won't be able to think of their own body as beautiful.
Shame researcher Brene Brown writes on the TEDBlog:
"You can't raise children who have more shame resilience than you do. Because even if you don't shame them, and even if you are actively trying to raise them feeling good about who they are, they're never going to treat themselves better than you treat yourself. So that's the bad news and the good news, but mostly the sucky news. If you want to raise a daughter with a really healthy body image, you better love your body as a mother, because that counts way more than looking at your daughter and saying 'You're beautiful and your body is beautiful.' All that matters to her is how she sees you acting with your own body … We can't give children what we don't have."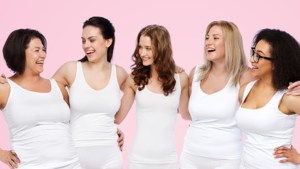 Read more:
Why "body positivity" isn't about celebrating obesity