Better check in and see if you're following these ...
It's getting like middle school, or Lord of the Flies. Facebook gets ugly. Mean, petty, tribal, mean, gossipy, cliquish, mean, whiny, lynch-mobbing, sneaky, and mean. Lots of people think they're the cool kid who gets to join the other cool kids in beating up on the dorks. The kids they call dorks think they're the cool kids who get to beat up on other kids.
One Facebook friend lamented, "Apparently people find me worth talking about, but not worth talking to." That's the kind of thing I mean. What's distressing is that so many of these people being middle-school ugly are Catholics or other Christians. What's even more distressing is seeing how easily I can go online and revert to seventh grade.
What Jesus would tell us
Here are six rules for using Facebook, derived from Jesus's direct commands. Jesus didn't mention social media, but He knows sinful people. Facebook etc. is just a new way that sinful people can do what they always do. With a bigger audience and with more anonymity, and that's usually bad, but basically, it's nothing new.
First, read others as you want them to read you (Matthew 7:12). Give everyone the benefit of the doubt. Assume they didn't mean what they seem to have meant.
Because you often can't be sure. For one thing, Facebook rarely gives people enough information to judge well. We see a few dots and we supply others and then we connect them to make the picture we want. For another, Facebook doesn't tell you what the person's going through. Maybe he's ranting because he's about to lose his job or his child's really sick, and in a few days he's going to feel ashamed for what he wrote.
You could be that person. You could find "friends" twisting an innocent comment into something stupid or you may say something you will regret later. You want to be read with sympathy and charity. Read others that way.
Second, don't respond to insult (Matthew 5:39, 44, 46-47). Let it go. Because, again, you often can't be sure what the person meant. Few people know how they sound in print. (I know this from decades of editing.) People can write the rudest things, thinking they're light-heartedly poking fun or gently teasing. The writer may not mean it.
Don't respond also because the insult doesn't mean much if anything. People say dumb stuff on Facebook. While you feel mortally insulted, your real friends will just roll their eyes and pass over it.
Besides, Jesus told us to turn the other cheek. The writer may mean it, but you will only help him by letting it go and praying for him. It's good for us to have to swallow our pride. You go on Facebook, you're asking to be insulted, so use it for your good.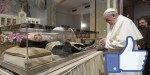 Read more:
It's not enough to "like" the saints, says Pope Francis


Take breaks, share, love, and leave
Third, take a break regularly and sometimes for a long time (Matthew 6:16 and 9:15, 4:2). Facebook is designed to be addicting, by giving you little shots of pleasure all day. Anger and indignation are also addicting. You only break addictions like this by giving them up.
You might make Sunday a Facebook sabbath, and take Lent or random weeks off. Taking a break reminds yourself that you can live without it. When you go back to it, you'll find you have enough distance not to get sucked into the drama. But since it's addicting, you have to keep taking breaks.
Fourth, remember you have a message to share (Matthew 10:7 and Mark 16:15). A lot of your Facebook posts and conversations will be light and friendly. Pictures of your children or your pets, updates on your life, funny cartoons, even kitten videos if you can forget that kittens grow up to be cats.
Remember even then that you know something (and Someone) others don't know and write as if you know that. Take the obvious opportunities to speak of what you know. But remember even when you're sharing light and friendly things that you're speaking as a Catholic and someone may be making judgments about Jesus or His Church from the way you write. Which is foolish of them, but they do it anyway.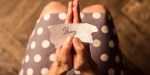 Read more:
An open letter to people who pester their friends with prayer intentions


Fifth, write like you love the other people on your page (John 13:34-35). Even if you don't know them. This gives the positive version of the first rule. When you have to argue or correct with someone, don't treat them as the other side in a debate. Treat them as people whose good you want. Treat Facebook "friends" as real friends.
You want to win the debate, of course, because as an evangelist or apologist you want people to see what you see. But you want to win in a way that moves the other guy closer to the truth. That's hard to do when he's a stranger (even if a "friend") and just an icon on your page. Praying for him before you argue with him works best for me.
Sixth, leave when the discussion gets toxic (Matthew 10:14). Many Facebook discussions quickly turn into pointless debates and many turn into abuse and detraction and insult. The medium encourages this. People learn to love that rush they get when they're hitting others, or watching other people hit each other. Just leave. Don't try to "get this back on track" because you rarely can and you don't gain much in doing so. Toxic people only stop when no one's listening anymore. You do them a kindness when you don't indulge them.


Read more:
@Pontifex turns 5: "I remember being with Pope Benedict: He was a little clumsy pushing the buttons"