This touching father-son story is a testament to perseverance, courage, and parental sacrifice.
In 1950s London, sitting on the floor of Foyles bookstore, a young immigrant taught himself English every Saturday. Sixty years later, he returned there again — this time to buy a copy of his son's debut novel.
Author Guy Gunaratne shared this touching story about his father on Twitter, and the response was an outpouring of gratitude and kindness.
https://twitter.com/guygunaratne/status/987281000622428163
This, simply, this is why we should embrace others. https://t.co/T6tiLv8GwN

— Simon Griffiths (@SimonBGriffiths) April 20, 2018
Some Twitter users shared their own stories of living in immigrant families and the appreciation for the written word that it instilled in them.
Man, as the writer-daughter of two immigrants, I can really relate to this. How it's possible to conquer a new language, & exist in 2 languages at once. How storytelling can transcend displacement. How certain immigrant communities value writing above other callings. https://t.co/00EN8VprNP

— Alex Mar (@_alex_mar) April 20, 2018
*sniffle* – love this! As the proud daughter of hard-working and incredibly humble immigrants, I am forever grateful for their investments in my education and upbringing. https://t.co/6QZRV59p0C

— Naomi S (@naomimstewart) April 20, 2018
Gunaratne's homage to his father's perseverance and determination to build a new life serves as a beautiful reminder of the fruit that can be born of parental sacrifice and the courage to become your best self.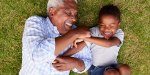 Read more:
Cultivating a male influence for sons in the absence of a father