Philippines being consecrated to the Immaculate Heart of Mary on May 4
Thousands of Filipinos are expected to process through the streets May 4 in remembrance of Our Lady of Mount Carmel's arrival to the Philippines 400 years ago, brought by Augustinians as a gift from Carmelite nuns of Acapulco, Mexico.
The Virgin's arrival to the islands with some of the first missionaries marked the beginning of Filipinos' deep devotion to Our Lady in her manifestation as the Virgin of Mt. Carmel.
The Philippines will be consecrated to the Immaculate Heart as part of the anniversary celebrations.
According to UCANews, "The image was initially housed at the Augustinian Recollects' convent in Bagumbayan, now Luneta Park in Manila, and was enthroned three years later in 1621 at the first San Sebastian church in Quiapo."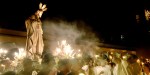 Read more:
Salubong: An Easter morning Mother-and-Child reunion


This title of Mary refers to the origins of the ancient Carmelite Order, whose first members lived as hermits on Mount Carmel in Palestine.
The hermits' first chapel on Mount Carmel was dedicated to Mary, the Mother of Jesus. In time, the hermits left Mount Carmel and became itinerant beggars, spreading their way of life and spirituality throughout Europe.
According to legend, the Blessed Virgin appeared to Saint Simon Stock, a Carmelite priest, in England on July 16, 1251, presenting him with the brown Carmelite scapular. In time, devotion to "Our Lady of Mount Carmel" and the brown scapular spread throughout the world.
Cardinal Luis Antonio Tagle of Manila noted his hopes that the May 4 celebration would "strengthen the devotion to Our Lady," as the country is being consecrated to her Immaculate Heart.
"Let us take this occasion to pray for healing and reconciliation in our land and to consecrate our country to the Blessed Virgin Mary," the cardinal said.


Read more:
Cardinal Tagle tells convention of exorcists: Mystery of love conquers mystery of evil