The Holy Father reiterates a theme that he recently presented in his apostolic exhortation, "Gaudete et Exsultate."
In his most recent, an initiative of the Pope's Worldwide Prayer Network, the Holy Father focuses onthe mission of the laity. Specifically, Pope Francis highlights his prayer intention for this month, "the lay faithful may fulfill their specific mission, by responding with creativity to the challenges that face the world today."
"Let us pray together this month that the lay faithful may fulfill their specific mission, the mission that they received in Baptism, putting their creativity at the service of the challenges of today's world," said the Pope. "We need their testimony regarding the truth of the Gospel and their example of expressing their faith by practicing solidarity," he added.
This is a theme dear to the heart of Pope Francis, who presented it again in his most recent apostolic exhortation, Gaudete et Exsultate: On the Call to Holiness in Today's World. In that document his mission was,"to repropose the call to holiness in a practical way for our own time, with all its risks, challenges and opportunities. For the Lord has chosen each one of us 'to be holy and blameless before him in love' (Eph 1:4)."
Reflecting that theme in the Pope Video, Francis emphasized, "Lay people are on the front line of the life of the Church." "Let us give thanks for the lay people who take risks, who are not afraid and who offer reasons for hope to the poorest, to the excluded, to the marginalized," he said.
"Often, people think that priests are the ones who should move forward the Church's mission. Nevertheless, the lay people are the ones who are at the heart of the world, and the ones who have a key role in transforming society," emphasized Fr. Frédéric Fornos, SJ, international director of the Pope's Worldwide Prayer Network and the Eucharistic Youth Movement. "It is in families, in classrooms, in offices, in factories, in the fields, in daily life, where we find the opportunity to be salt and light of God's Kingdom, the flavor of the Gospel," he added.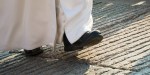 Read more:
The pope's new doc on holiness: Gaudete et Exultate in 15 key words




Read more:
Pope Francis wants everyone to imitate these saints