We're still in the Easter season, and it's a good time to contemplate this aspect of Christ's resurrected body ...
What can God do in your life with one Bible verse a day?
Subscribe to Aleteia's new service and bring Scripture into your morning:
Just one verse each day.
Click to bring God's word to your inbox
During the Easter season, I always like to spend extra time with the Gospel accounts of the Risen Christ's encounters with his disciples. We hear of Mary Magdalene clinging to him, Cleopas and his friend breaking bread with him, and Peter jumping into the water with his clothes on to see him. It's beautiful to see the pain and confusion transformed into joy when they realized that he truly had risen from the dead.
Those last chapters of each Gospel also make me crazy. Jesus walked the earth for 40 days between his resurrection and his ascension, but they only describe seven events. Paul alludes to a few more in 1 Corinthians 15, but that still leaves a lot of time unaccounted for.
While I wish there were more stories to read, more accounts of forgiveness and healing, more verses to memorize and people to admire, there's something beautiful about the Evangelists' silence on this point. Perhaps most of Jesus' encounters after the resurrection were too intimate to be recounted or recorded.
I imagine him sitting with Mary of Bethany who had anointed him before his death and dried his feet with her hair, whose offering of 300 days' wages worth of oil was an offering of her future, a dowry offered to the bridegroom Messiah. Maybe he met with Nicodemus, who had been too afraid to declare himself for Jesus while he lived but had chosen to cast his lot with his crucified king, helping in his burial. Even Pilate and Caiaphas may have gotten a visit, though the tradition is silent on the subject.
He must have been to visit his mother, though. He can't have done otherwise. After she stood at the foot of the Cross and grieved on Holy Saturday, he must have gone to see her. And not just once, I think, but many times. Maybe they reminisced or talked about the things to come, on earth as well as in heaven.


Read more:
Did Jesus visit his Mother first on Easter morning? Here's why JPII said "probably so"


What strikes me most is the image of Mary, basking in the Easter glow of her risen Son's glorified body, contemplating his wounds. As they talked and laughed, maybe Jesus pushed his hair back out of his eyes (a gesture he had learned from St. Joseph, the humble man whose mannerisms shone out in his foster son). In that moment, the hole in his hand caught her eye and a small gasp escaped her.
Not, I think, of shock, or even of pain. Of wonder and joy and pride at all her Son had done to save her sons. I can see her taking his hand in hers, stroking his palm, kissing the wound, and looking up at him, tears in her eyes, to say, "Thank you. Thank you for saving them. Thank you for saving me." Because even Mary (Immaculate as she was) was saved pre-emptively by the blood of Christ, as Pope Pius IX proclaimed in 1854: "The most Blessed Virgin Mary was, from the first moment of her conception, by a singular grace and privilege of almighty God and by virtue of the merits of Jesus Christ, Savior of the human race, preserved immune from all stain of original sin."
When Mary looked on Jesus' wounds, she saw the words of God through Isaiah: "See, upon the palms of my hands I have written your name" (Is 59:16). The wounds on his hands, on his feet, in his side weren't just scars that God hadn't gotten around to erasing. They were the names of sinners, the mark of his love for his bride the Church. And when Mary looked at them, she saw not just his pain but his love for each one of her sons and daughters, born and unborn.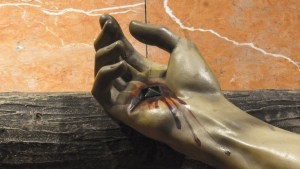 Read more:
A powerful collection of prayers to the Holy Wounds of Christ
The wounds of Christ ought to remind us of our sins; there's a healthy guilt in remembering that we crucified Christ. But they should also remind us of his powerful love, not just for us but for all those we love and, perhaps more importantly, for all those we hate.
This Easter season, let's sit with Mary and contemplate the wounds of Christ. When we see a crucifix, let's thank him for that ultimate act of love for us and for specific people in our lives. If we can see our bossy coworkers, our vengeful exes, our abusers as the objects of that love, as the names tattooed on the hands and feet and side of Jesus, we may be able to start loving them the way Mary loves them. We may be able to thank him, tears in our eyes, for saving our enemies. Now that's an Easter miracle.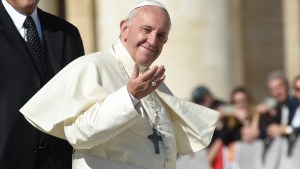 Read more:
"God has tattooed my name on his hand!" Pope Francis is blown away by God's mercy