As with most things, the boundaries parents put in place makes a verifiable difference.
Children turn to television and similar entertainment (Youtube, Netflix, etc.) to satisfy their need for distraction, to reduce tension, and to obtain information. Besides their personal motivations for watching audiovisual programming, there are other situational factors beyond their will: children watch this content because it is imposed on them by their environment, and they have no choice. It is offered to them in the environment of their home, and it is reinforced by the behavior of their parents.
Children are excellent imitators, even during their first months of life. They learn to eat, to dress themselves, to use the toilet, and to interact with others. Although imitation isn't the only learning mechanism children have, it is the first, and it lays the foundations for future learning.
This problem does not affect only children; it often has an impact on adolescents as well. Throughout our life, we imitate others to learn new things and to strengthen our identification with a particular group.
Negative effects of TV on children
It has been shown that the content of messages on television, above all in the western world and, even more, in developing countries, is of poor artistic quality, with a high level of violence, aggression, and exaltation of values that are not in accord with the best interests of our society. These anti-values include the glorification of individualism, an emphasis on money and on material goods, etc. Television contributes to the formation of stereotypical images of professions, ethnic groups, religious affiliations, and political affiliations.
There are other negative aspects of television which tend to go unnoticed, or to which little importance is given. Among them are the following:
Excessive screen time limits healthy recreational activities, and diminishes time dedicated to playing with other children. Kids who are always watching TV dedicate less time to using their imagination and to thinking. Watching audiovisual entertainment also means less time for sports, music, art, etc.
It also reduces the time available for conversation and exchanging ideas; it limits social interactions with family and friends.
It represses the inclination to read.
Too much time spent passively being entertained on a screen (more than 4 hours a day) can also have a negative impact on academic performance at school.
It reduces the will to do exercise.
Through advertising, it increases the demand for material possessions.
The benefits of watching TV with your children
Saying that TV has a significant and often negative impact on children's development is nothing new, but we also have to admit that that influence isn't always bad.
Regarding positive influences, we can say that their impact is weaker, because programs of this kind are rare and/or are often poorly structured. Such good programs help children by giving them a more solid foundation for learning, but everything depends on how the information is acquired and interpreted. It's also important to point out that television, through quality programs about culture, helps children get to know the world and different countries and cultures.
Watching television with your children and commenting on the content of the programs is a golden rule for screen time: that way, children get more out of good programming, the harmful effects of bad programming are reduced, children are taught critical thinking, and — best of all — you get to spend some great time with your family.
It is important to highlight parents' enormous responsibility regarding the quantity and quality of television that their children are exposed to, since it is the duty of parents or guardians to establish certain limits and norms, in addition to providing a family life with good communication and interaction among its members. We should use all the means at our disposal to prevent the dangerous effects that television can have on our children if it is used indiscriminately.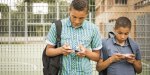 Read more:
Teens and screens: How to avoid internet addiction




Read more:
Young children spend more time on small screens, less time talking to parents