A strong, joyful relationship isn't just about building each other up; it's also about surrendering ...
Marriage is like a dance — it requires both people to practice and work together. Sometimes one or the other will stumble along the way. It's important to let go of those missteps so that the final dance can be a beautiful reflection of your love for each other.
In my role as the founder of marriage.com, I've had the opportunity to work with counselors who specialize in helping couples build stronger marriages. Mary Kay Cocharo, a licensed relationship therapist who has worked with couples and families for over 25 years, told me that sometimes forging a stronger bond means letting go of some preconceived notions about marriage.
Curious, I asked her to share the seven things she suggests couples simply set down, let go of, and forget. Your marriage will be stronger for it.
The idea of a perfect mate
Do you really think the perfect mate exists? And if he or she does exist, what makes you think they would want to be with you? This is where you give up the idea that your husband or wife should strive to be a "perfect" version of their ordinary, flawed self.
"Sometimes I think that women in particular marry the man of their dreams, and then immediately put him on a 'rehab' program to get him to change into the man she projected him to be in the beginning! This, as you can imagine, confuses and annoys men," says Cocharo.
So, what is the "perfect" husband or wife like, anyway? Ask 10 people, and you'll get 10 different answers. Trish* from Los Angeles said her perfect mate would be someone who would do little things for her. Her husband of five years, Al, said the perfect mate would be someone who would give him plenty of loving touches. They both needed to be loved in their own unique ways. Neither was right or wrong.
Instead of putting your energy into "fixing" or "changing" your spouse, let go of that mindset. Spend your energy celebrating what you love about the person standing right in front of you, and making yourself the best you can be.
Comparing your relationship with others
Looking around the pews at his New York City church, Mike couldn't help but notice the other couples. This couple was always hugging or holding hands. Another couple was friendly and outgoing, always inviting others for game night. Still another couple seemed to have it all — great jobs, time to exercise, etc. Sometimes he'd turn to his wife Nina and wonder why they weren't more like any of them.
It's hard not to compare your relationship with others. But if you want a happy marriage, you need to let go of comparisons. What Mike didn't know was that the holding-hands couple was working on their lack of intimacy, the game night couple had trouble communicating and so having others over was a good distraction, and the "have it all" couple was actually deep in debt and full of stress.
Remember that the grass is not always greener. You and your spouse are unique people, and your relationship is special. Let go of looking outside your relationship — focus instead on just each other and you won't have the need to compare.
Needing to be right
Jacob and Sarah have been married for over 12 years and live in Florida. They've been fighting tooth and nail about one issue for years in their marriage — whether or not to have a TV in their bedroom. He wants one because he loves to relax and watch a show before falling asleep in their bed. She hates the idea because she thinks the bedroom should be a distraction-free zone. Who's right?
The short answer is — both, and neither. This is another one of those issues that didn't have a right or wrong answer. (You'll find that marriage is full of these no-right answer scenarios.) Still, Sarah showed Jacob studies about how a TV in the bedroom affects the relationship in a mission to prove she was right. But what she really needed to do was listen to her husband, who was not being heard.
There are some non-negotiable values we should uphold, but in a marriage you must consider the other person. Ask yourself, is it more important to be "right" or happily married? Does this particular thing mean a lot to me, or a little? Does what you're arguing over really matter in the end?
Move past hurt
Marriages simply can't go forward if either partner holds onto past transgressions. That was a huge problem with May and Alex's marriage of eight years. She just couldn't get past a big wrong he had done in the past, and it was hurting their ability to move forward.
Perhaps there have been fights or incidents in the past that you are hanging onto. If you're stuck, it's important to go to counseling to figure out how to move past it.
Cocharo notes, "If you are experiencing conflict, then that does not mean that you've chosen the wrong person to marry. This is simply not true. Conflict in relationships is growth trying to happen. It is your invitation to stretch into being a better partner for your loved one."
Thinking you are the same person
Hillary loves to go out and exercise, but her husband Paul, whom she married six years ago, prefers staying home and reading or watching videos. For the first few years of her marriage, she begged Paul to come with her on hikes or to play sports — which he agreed to because he loved her and wanted to spend time with her. After a while, however, she could see that he wasn't really enjoying their outings.
So she found a girlfriend who also loves to hike, and went with her instead; Hillary also joined a gym and regularly attends classes. Paul encourages her to exercise, and he is just as happy to greet her when she comes home. These days, they spend time together at the movies or out to dinner around Orlando.
Just because you're married doesn't mean you have to do everything together. In fact, a little time apart can help you each develop your own unique selves, which makes for a richer experience when you come together.
Believing that sex is always going to be fantastic
Cocharo advises: "You need to let go of the idea that sex is always going to be as great as it was in the beginning … but keep in mind that you can still have warm, connected, emotionally bonding sex …"
The idea that having kids will automatically improve your relationship
"Drop the idea that children will make your relationship better," Cocharo suggests. "Don't get me wrong, you will absolutely be bonded around the love and commitment to your baby. But you will, most likely, also find yourselves sleep-deprived, irritable, and without as much time for your marriage as before baby made three."
So what are new parents to do?
"This is a good time to simplify your social calendar and turn inward, towards the relationship. Carve out some quality time for just you two, even if it's a 20-minute walk or a 10-minute cuddle. Children take up and deserve a large commitment of time and energy from their parents, but don't forget that the foundation of the family is your relationship."
*Some names have been changed in this story to protect privacy.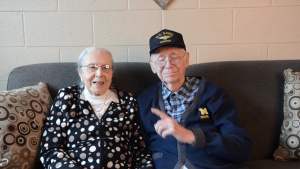 Read more:
WATCH: Three couples, each married for 60 years plus, share their secrets