One man's route won't be like another's ... and God's behind that.
When you ask directions in Pittsburgh, you're likely to get someone's special secret route, which will involve seven turns per mile and your feeling completely lost at least once. And that will be in a GPS dead spot, because why should you have it easy? Thanks to all the hills, creeks, and valleys, there's rarely a direct way to get anywhere.
Some people's secret routes are easier than others, and some are faster than others, and some are just ridiculously complicated. People get to the Church the same way. I used to think that was just the way different people do things. It is, but now I see that it's something God uses.
Coming into port
The great 19th-century convert John Henry Newman wrote about his own discovery of the Catholic Church in a book called Apologia pro vita sua (in English: an explanation of his life). Almost 20 years later, he added a chapter on his life after entering the Church. He never once regretted doing it. "I have been in perfect peace and contentment; I never have had one doubt," he says. Entering the Church "was like coming into port after a rough sea; and my happiness on that score remains to this day without interruption."
This was my experience. It's the ideal. Putting those two sentences together, I make no claims for myself. It was a blessing and a gift, not an achievement. I can guess at the earthly reasons for that blessing, and at least one does not redound to my credit. I took a long time to make my way in, some years after I'd really recognized the Church as the Church.
My mind and spirit were wired to be Catholic. Things that bothered others looked and felt right to me, even when I didn't believe them. Transubstantiation was one of those. I never really understood my Evangelical friends' intense dislike of the idea. I thought that if you could believe God became man at the Annunciation, you could believe that God gave Himself to us in the Mass and could be found in the Tabernacle. As my snarky secular friends could say, if you swallowed one camel, you can swallow another camel.
And it made intuitive sense to me, that if God did the one He'd do the other. He'd set a pattern. His continuing presence on earth would be material as His first coming. And I loved the idea that Jesus was always just around the corner and that I could go to Him whenever I wanted.
I didn't want to move for all sorts of reasons, so I didn't, for several years. Yet because God is good and the Church so attractive, my mind and my spirit kept developing Churchwards even while I stayed just outside the border. God lovingly kept forming me even when I was disobedient.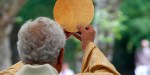 Read more:
The Eucharist IS Jesus, just have faith: Pope Francis


Different routes
That was my route, and an easy one it was, though it should have been even easier. Many people I knew (and know) who found themselves attracted to the Church really struggled. My serious Evangelical friends struggled especially hard, because the Church held things to be true they'd been taught from childhood were as wrong as they could be. (Some of them were, I think, being as disobedient as I was. They did know better, as I did. But not all.)
I thought, "Jesus in the Tabernacle, yeah, cool." They think, "Yeah, cool . . . [shriek] Wait, no, not that!"
I was a spaceship in a science fiction movie half-heartedly trying to escape a tractor beam because I was kind of hoping to be captured. They were soldiers on the front lines trying to repel an invading army of orcs. I was at the top of a slippery slope with a pleasant land at the bottom, but preferred to stay on the uplands, and was more worried about the fall down the slope than the landing. They were Indiana Jones suspended above that pit of snakes.
Looking back, I used to think that my friends and I just came to the Church by different routes, because God calls people from very different places. My route went down the interstate, theirs wound through the wilds.
What God is doing
Now I see more of what God was doing and how he uses who we are. My Evangelical friends who become Catholics through such struggles can speak to others going through the same thing. They know the arguments. When someone says, "But the Bible says," they can say, "Well, actually, no."
I can't do that because I never had to do that for myself. If someone says, "But the Bible says," my usual answer is, "It doesn't, but I can't remember why it doesn't." But I have a better idea of how the Thing works as a whole, how it makes imaginative sense, how it feels from the inside, and what satisfactions the Church provides. My former Evangelical friends tend not to be so good at that.
God uses for His own purposes where we've been, even if we stayed there a lot longer than we should have. God is gracious, but He's also shrewd.


Read more:
New study: Beautiful churches and cathedrals an important force in bringing conversions