These symbols of what we take to eternity speak more than words ...
A few weeks ago my pastor started his sermon with a small white card in his hand. I assumed it was notes.
"We priests do a lot of wakes and funerals, and I've seen all sorts of things go in the casket." He spoke of the natural impulse some people have to place objects representing a favorite activity in the casket. "A football helmet, a baseball glove, a fishing rod … I've seen it all."
Nothing wrong with celebrating the fun we've had. But it's crucial that we are aware that the things and activities we love on earth aren't what we're taking to eternity.
Monsignor reflected on the day of his ordination 30-something years ago. At the very end of the Mass, he walked over to a statue of the Blessed Mother, to find a huge arrangement of flowers in front of Our Lady. There was a small card there. It was the card he held in his hand during his sermon.
The card read: "We thanked God on the day you were born and every day for giving you to us as our son.  We thank Him now as we give you back to Him as a priest. May God bless you every day of your priesthood. Love, Mom and Dad."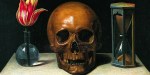 Read more:
Memento mori: I'm planning my funeral, what about you?


What we're taking
Monsignor had a tear in his eye as he read this treasured note.  And then he said, "This is the one thing I want in the casket with me when I die."
His card so clearly made the point, without actually even saying it, that it's not the things we love on earth that we'll be judged on; it's how we love and what we do with our time that matters.
Pope Francis often makes this same point, inviting us to reflect on death, and how we should live in preparation for that day.
During a general audience in June 2015, he said, "Our loved ones have not disappeared into dark nothingness: Hope assures us that that they are in God's good and strong hands. Love is stronger than death. … The Lord will reunite everyone once again, and it is this Christian hope and faith that will protect us from a nihilistic view of death as well as false worldly consolation, myths or superstition."
"We Christians believe and know that Christ's resurrection is the true hope of the world, the hope that does not disappoint," the pope said April 1, Easter morning 2018. "Death, solitude and fear are not the last word," he said. "There is a word that transcends them, a word that only God can speak: it is the word of the resurrection."
In November 2013, the pope referred to a mistaken way of seeing death. "If it is understood as the end of everything, death frightens us, it terrifies us, it becomes a threat that shatters every dream, every prospect, that breaks every relationship and blocks every path."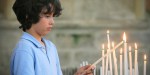 Read more:
How my 7-year-old's first experience of death was deeply imbued with peace … and even joy


This fear of death, he continued, can happen when one views life as just a period of time between birth and death, without believing in life after death. This view is typical of atheist thought which views life as a path towards nowhere. "But there is also a practical atheism, which is to live alone for one's own interests and earthly things," he warned. "If we let ourselves be taken by this wrong view of death, we have no choice but to conceal death, to deny it, or to trivialize it, so that it does not frighten us."
The Holy Father went on to say that the heart of man "rebels" against this false concept, and an instinct inside us tells us that life does not end with death.
"If we live united to Jesus, faithful to Him, we will be able to confront with hope and serenity even the passage of death," he said.
Reflecting on the Gospel of Mathew, in which Jesus says, "Where your treasure is, there your heart will also be," the pope said in June 2013, "the only treasure" that you can bring with you to the afterlife, is "what you have given to others," because "I have never seen a moving van behind a funeral procession, ever. We must ask for the grace of a heart that knows how to love and do not let ourselves be led astray by useless treasures."
But there is a treasure "we can take with us," a treasure that no one can take away — not "those things you've kept for yourself," but "those you have given to others."
"The treasures we have given to others, that we take with us. And that will be our 'merit' — in quotation marks — it is our 'merit' of Jesus Christ in us! And that we must bring with us. And that is what the Lord lets us bring. Love, charity, service, patience, goodness, tenderness — these are very beautiful treasures: these we bring with us. The other things, no."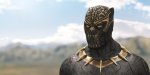 Read more:
6 Inspiring movies about how death leads to new life