Novenas are an ancient part of the the Church's devotional life and have a rich history.
Catholics often talk about "novenas," and without any prior knowledge of the devotion the name can be confusing.
What is a novena?
Novenas are an ancient part of the the Church's devotional life and many trace the structure back to the days between Jesus' ascension and the feast of Pentecost.
Jesus' final command on earth before ascending into heaven was to "wait for the promise of the Father."
And while staying with them [Jesus] charged them not to depart from Jerusalem, but to wait for the promise of the Father, which, he said, "You heard from me, for John baptized with water, but before many days you shall be baptized with the Holy Spirit." (Acts 1:4-5)
God fulfilled this promise on the Jewish feast of Pentecost, as is described in the second chapter of Acts. This Jewish feast was always celebrated 50 days after the feast of Passover.
According to St. Luke, Jesus ascended into heaven after "appearing to [the apostles] during forty days" (Acts 1:3) after his resurrection. This means that the time between Jesus' ascension and the coming of the Holy Spirit at Pentecost is nine days (not including the day of Jesus' ascension).
For many Christians, they saw these nine days of prayer as a model of prayer and developed devotions that consisted of nine days (or months) of prayer for a specific intention or to a particular saint. This number was seen as divinely inspired and so "novenas" (from the Latin word, novem, meaning "nine"), were viewed as a perfect way to pray.
One of the earliest novenas was a period of prayer for the nine months preceding the feast of Christmas, in imitation of Mary's prayerful pregnancy.
It didn't take long for the number nine to be used in all sorts of situations, such as a novena of Masses said for a person, or a novena of prayers for the restoration of health. Thus, the "novena" was born and has become a central part of Catholic devotion ever since.
Read more:
Pray a novena to the Holy Spirit and kindle a fire within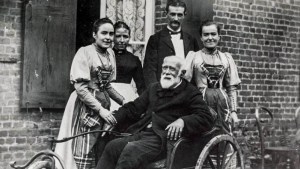 Read more:
St. Louis Martin Novena: For depression, anxiety and mental disorders