Experts are challenging the idea that drugs and therapy are the final stop for people with mental health issues.
I'm used to hearing mental illness being talked about in non-curable terms, as if it were an autoimmune disease. I'm sometimes asked by a new doctor how I'm "managing" my anxiety, and they're consistently shocked when I reply, "It doesn't really bother me anymore, and when it does I just kick some things." They seem dubious at best and downright scornful at worst when I explain that exercise has basically erased anxiety from my life. "Exercise can help, but if you're not managing your symptoms clinically you're heading for another breakdown," is something I've heard more than once. It's ubiquitous to hear patients and doctors talk about "managing symptoms," or controlling and reducing them, but rare to hear anyone talk about actual recovery.
For decades, mental illness wasn't seen as something you could recover from. You had to learn to live with it, taking good and bad times as they came (with a hefty side of psych drugs). But according to Dr. Robert Whitley at Psychology Today, mental health advocates have recently begun challenging this view and calling for a new definition of recovery from mental illness.
One of the most widely-used definitions comes from the Substance Abuse and Mental Health Services Administration, which states that "mental health recovery is a journey of healing and transformation enabling a person with a mental health problem to live a meaningful life in a community of his or her choice while striving to achieve his or her full potential." In other words, mental health recovery is much more than symptom remission, and involves transformation in other domains which have been neglected by traditional psychiatric services.
Dr. Whitley and his colleague Dr. Robert E. Drake have proposed five dimensions of recovery to help guide patients and doctors through the process of healing and transformation. The first one is clinical recovery, which includes medication and therapy. This dimension can't be overlooked — it's a vital first step in mental health recovery. But much like the triage unit at a hospital, it's a first step. If a patient stays there, they won't get the care and healing they need to be able to live a full and happy life.
Sadly, most patients do stay there — if they even get there in the first place. The other dimensions of mental health recovery are overlooked, ignored, or flat-out scorned. Dr. Whitley calls these dimensions "existential, functional, physical, and social," which are good names for them. But you can also think of it as "the entire rest of your life."
When I first started taekwondo, I knew exactly who I was doing it for — myself. I needed something that was meaningful, something to give me purpose, and I found it in martial arts. The physical and mental discipline of taekwondo healed my body and my mind, and awakened a love for exercise generally, which led me down the path of becoming a personal trainer. So finding something that gave my life meaning and physically transformed me also functionally transformed me, giving me a career and a cause.
Now, as a trainer with Camp Gladiator, I have a network of colleagues who are quickly becoming friends. We have meetings and talk about business, but we also meet for lunch and socials and just to hang out. Social connection is vital for everyone's mental health and well-being, extrovert or not, and for the first time in a decade I can see how the lack of social connection I had in the past negatively affected me.
The difference between my life now and my life four years ago is astounding. It's a genuine transformation — and while I would be foolish to declare myself cured of anxiety and to frolic in the expectation of never being plagued by symptoms again, I can be confident when I say that I've recovered from anxiety.
And if there comes a day when I feel anxiety rearing its ugly head again, I know where to go to kick a few things.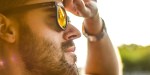 Read more:
25 Helpful tips for overcoming anxiety