The priest and three deacons were killed in Mosul, Iraq after celebrating Mass.
According to Fides, on May 14, 2018, the Congregation for the Causes of Saints gave its "nihil obstat" ("nothing stands in the way" in Latin) for the opening of the beatification of a priest and three deacons murdered in 2007 in Mosul, Iraq.
On June 3, 2007, Father Ragheed Ganni and Deacons Basman Yousef Daud, Wahid Hanna Isho and Gassan Isam Bidawid were violently executed after the celebration of Mass in the Chaldean Church of the Holy Spirit in Mosul. Their bodies were found later that day.
The Congregation for the Causes of Saints authorized the opening of the diocesan phase of their beatification, by a letter from its prefect Cardinal Angelo Amato. The cause will investigate and determine if the four men were martyred, that is to say, killed in "hatred of the faith." They are already regarded as such by the Iraqi Christian community.
Because of the instability that continues in Iraq, the diocesan phase is entrusted to the Chaldean Eparchy of Detroit (USA). Indeed, the city of Mosul, already battered after the US invasion in 2003, was occupied by the terrorist organization the Islamic State between 2014 and 2017. Christians fled from Mosul, which remains for them a particularly dangerous city.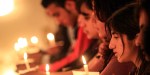 Read more:
10 years after Mosul archbishop was killed, his beatification cause is opened




Read more:
Iraqi nuns prepare return to Mosul, three years after ISIS expelled them