Holy commute!
Need an idea for Lenten almsgiving?
Help us spread faith on the internet. Would you consider donating just $10, so we can continue creating free, uplifting content?
Make a Lenten donation here
On a cloudy Saturday morning, a small but warm-hearted group of people ascended the stairs from the dark alley behind the Church of the Holy Innocents on West 37th Street, carrying a statue of the Virgin Mary and bags laden with rosaries, prayer cards and other religious items.
As they spilled onto the sidewalk, the familiar sound of the NYC streets filled the air. The quietly thunderous ensemble of undefined noise that is the sound of the city disappeared from consciousness after a few moments of discussing who carries what and jokes about whose back is worse than the whose. With a quick laugh the group began their trek.
This group, The Legion of Mary, was setting out on a Mission of Charity; to pray the Rosary and offer an encounter with grace to the comers and goers at the bustling Times Square Subway Station in New York on 42nd Street.
As they arrived above the Uptown rails of the 1, 2 and 3 trains, they placed a small plastic table with a statue of the Virgin Mary in front of a screamingly pink billboard for the Broadway show, Mean Girls.
"In the name of the Father, the Son and Holy Spirit …", begins Chris Saavedra, as the group begins the first of 20 decades that they will pray for the spiritual and physical well-being of all the passersby.
Briggs, a newcomer to the group, and Gaetano, known as "Tony," a long-time participant, broke away from the group to offer free rosaries and miraculous medals to anyone who might wish one.
Little by little, people are drawn to the group and walk away, hands filled with rosaries and smiles on their faces.
Tourists attempting to navigate the labyrinth of tunnels would come up and ask directions, curious locals would slow their pace and observe the statue and the prayerful. Even two of New York's Finest passed by and gave a reverent tip of the hat as they carried on about their day of keeping the city safe.
The scene was unlike any other; prayerful peace and warmth amidst the chaos of the big city set against the backdrop of screeching steel wheels on the never ending tracks in the city that never ceases. And that's New York, a city of contrasts and a study in grace.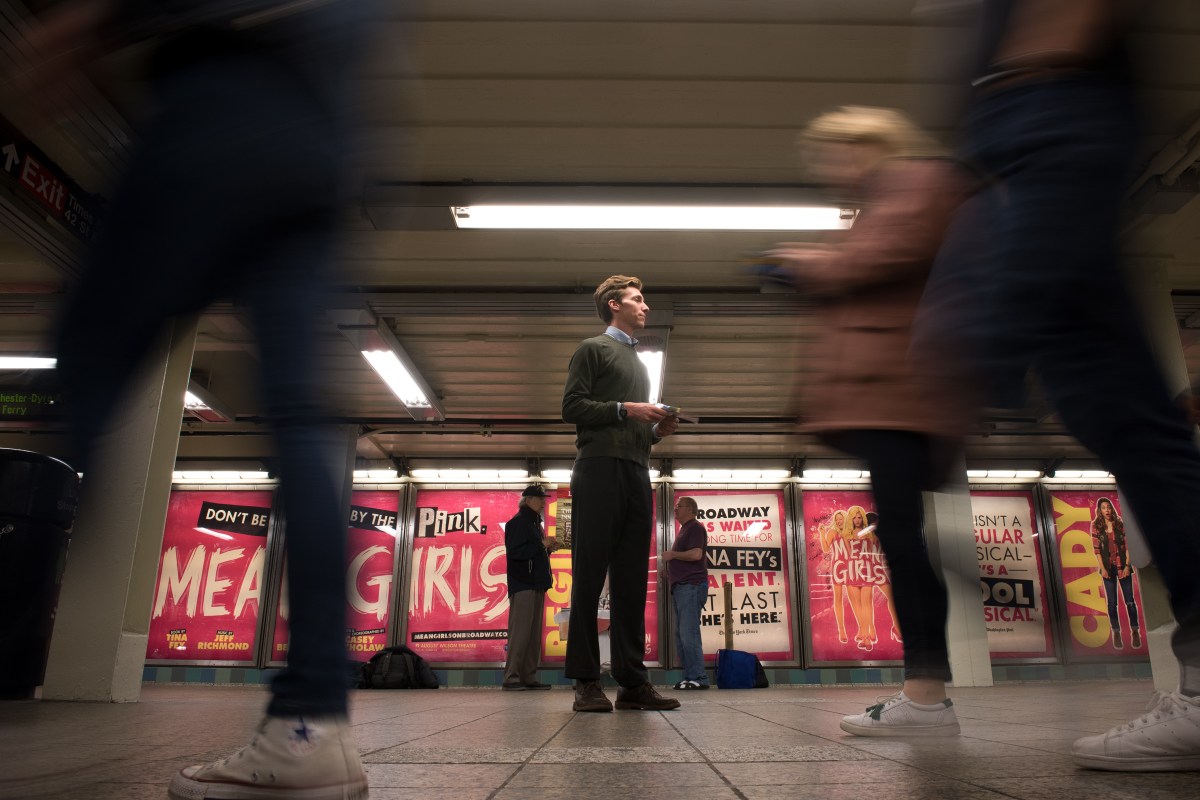 Launch the slideshow