She didn't have a choice about needing a heart transplant -- but you do.
It was spring 2010. A little girl named Morgan was in the home stretch of 4th grade when she began to experience a number of unexplained symptoms, including repeated vomiting. Morgan had always been a healthy child, so these symptoms took her and her family by surprise, and initially left doctors dumbfounded. But in late September, the family finally got an answer: Morgan was diagnosed with dilated cardiomyopathy — a disease of the heart muscle in which the ventricle stretches too thin and can't pump blood as well as a healthy heart can.
Initially, Morgan was treated with six daily medications and numerous check-ups and evaluations, but by 2013 it became clear that the only permanent solution was a heart transplant. After failed attempts to improve her prognosis, Morgan and her family landed at Cincinnati Children's Hospital on September 4.
Morgan's heart was failing, and although her family knew it could take many months — or even longer — to find a donor, doctors told the family that their daughter might only have a few weeks to live.
But sometimes miracles do happen. Less than a week after Morgan was placed on the transplant list, a heart became available. On September 25, 2013, Morgan received the gift of new life because another family made a selfless decision at the moment of their greatest tragedy.
In the weeks and months that followed, Morgan underwent countless tests and procedures to help her body, which was attempting to reject the new heart, reach some level of self-regulation and equilibrium. When she was able to return home in December, Morgan's new normal included 18 daily medications (60 pills a day), plus blood sugar checks four times a day and regular insulin. Trips back to Cincinnati Children's for clinic visits and heart biopsies occurred at least twice a month for the first several months.
Although most of us could never imagine what Morgan and her family went through, all of us depend dearly on our heart every second of the day. The heart isn't just the body's most essential muscle, it is also its hardest working one. Consider that the adult heart beats on average about 100,000 times a day. Five quarts of blood pass through a system of blood vessels that is about 60,000 miles long each minute, which means that every day, your heart pumps about 2,000 gallons of blood. As we get older and fitter, our heart rate typically goes down, as low as 40-60 beats per minute (bpm) compared to newborns, who average 70-160 bpm. A healthy heart is generally just the size of a person's fist.
Despite the incredible capacity of our hearts, cardiac disease is the number one killer for men and women in the United States. Once thought to be largely "a man's problem," cardiac-related conditions now kill one woman a minute. More women die from heart disease than from most cancers combined. A person's activity is the greatest predictor of heart disease, as those with low fitness levels have at least double the risk of their active peers. Similarly, there is a strong link between obesity and cardiac problems, and it is estimated that 80 percent of the deaths from coronary artery disease could be prevented through lifestyle changes.
Yet despite the clear risk factors that exist, many Americans clearly take our hearts for granted. With almost 3 out of 4 of men being overweight or obese, and only roughly 1 in 5 Americans meeting CDC guidelines for aerobic and muscle-strengthening activities, we have collectively rendered this remarkable organ as being secondary to our desires for comfort and gratification. Very often you will hear adults, even those in medical or religious occupations, bemoan the fact that "my doctor is making me eat healthier or exercise more" as if it is punishment rather than an invitation to repair, preserve, and enhance this life-giving muscle.
Somewhere lost in this grumbling is a perspective that Morgan might want to impart on you.  At no fault of her own, she was suddenly thrust into a world where procrastinating and complaining was not an option. She was confronted with a reality that this beating force was an incredible gift, but one that at any point could be taken away, just as her life could be. She has every reason to feel that life is unfair, but if you talk to Morgan's mother, she will tell you that Morgan "has rolled with the punches" more than any child or adult she has ever known.  If we are willing to consider the "Morgan perspective," we might ask ourselves individually, and as a community, just how much do we truly value the organ that keeps us alive each day?  Do we value it more than the superficialities and stressors that might derail good habits related to our own heart health, or do we take it for granted and try to figure out the minimal amount of sacrifice required to keep it thumping at some level?
Four and a half years removed from the transplant, Morgan's life has somewhat settled into a routine. She's down to 13 medications (28 pills) a day and only goes to Cincinnati every three months to check for signs of rejection, as her body will never stop attempting to rebuff this "foreign entity." All activities these days are approached with particular caution, especially during cold and flu season, given Morgan's compromised immunity. Yet she continues to involve herself in a variety of ventures, including going to school, engaging in work opportunities, and participating in Special Olympics.
To know Morgan is to recognize the embodiment of the incredible gift that we have all been given — the real "heart of the matter." It is to gaze into the face of resiliency, and be reminded that the heart of who we are begins with the incessant beating in our chest. As her mother so beautifully stated about Morgan's journey: "The path we found ourselves on with Morgan is not one I would wish on anyone, but it has been a path full of blessings. It has taught us many lessons about patience, thankfulness, kindness, joyfulness and faith. Life is not to be taken for granted. Every life has purpose and every struggle works together for something wonderful. God is good!"
To learn more about Morgan's remarkable "heart journey," please visit my website at www.james-schroeder.com and search under her name.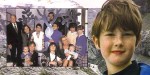 Read more:
Nicholas Green, the little boy who was murdered but gave the gift of life