Don't forget the people who pushed you to grow and be your best self.
There's a lot of talk about toxic people and about how it's best to stay away from them and so on. But most of the people who have passed through our lives have left a mark, not a scar. They have given value to our life because somehow they made us better people.
These are the people who've contributed to our happiness, who've made us smile just because they exist. At some point in our life, they pushed us to grow, to be our best self. They helped us at some key moment and left an indelible mark on our soul's memory.
They often helped us without even realizing it. Maybe they gave us a kind word at just the right moment or gave us their smile on a gray day. Maybe the answer that came from their mouth was just what we needed to hear from God.
We should not take for granted these valuable people. Let's keep them by our side, and strengthen those relationships with love and gratitude.
Sometimes life circumstances temporarily separate us from the ones who've given us so much, however. Take, for example, the story of Edurne Pasaban and Juanito Oiarzabal. These two great climbers had a very close relationship. Pasaban is the first woman in history to climb the 14 eight-thousanders, the 14 mountains in the world that are higher than 8,000 meters. Oiarzabal was her mentor, the one who introduced her to the world of mountaineering and with whom she shared other hard experiences.
A misunderstanding separated them and they went almost eight years without speaking to each other. But recently they reconciled and have even climbed together again — a lesson in humility, full of good memories.
How do these kinds of of reconciliations happen after so much time and pain? Each one, in his or her own way, gives value to the other. Pasaban and Oiarzabal knew how to put the focus on the value they had given to each other's lives. They changed their focus to good memories and forgiveness … to truth, kindness, and gratitude.
In them there was still a glimpse of what once was, a small light of that filial affection that had once united them. They simply allowed it to shine again.
Gratitude widens our soul and makes us better people.
If we open the eyes of our hearts, we will realize how blessed we have been by so many people who have helped us.
Do you want to broaden your soul and be comforted with memories of gratitude, too?
Try this exercise: Give yourself 20 minutes and think about all those people who in one way or another have helped you.
Write down their names and what you are grateful for from each one. And now comes the best part: Look for them and say thank you! Do this in whatever way it makes sense, but let them know that they have changed your life for the better. Tell them how grateful you are and how special they are to you.
We all like to know that we have been able to do something good for someone else, even if it's a small gesture. And not because of ego, but because we know that we came to this world to serve and make others happy.
Good, kind, and selfless people exist, but sometimes we are so distracted that it's hard for us to recognize them. So when you find them, don't let them go. Hold them close to your heart. Love them, with that filial affection that only life together can give.
Remember that you dedicate time to what you value and love. So stay close to those people who continue to bring joy to your heart and courage to your life.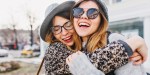 Read more:
3 Ways to put relationships first in your busy schedule