While most parents are obsessed with giving birth to perfectly healthy children, this mom has different priorities ...
My 20-week ultrasound looms right around the corner. With a gooey stomach comes the promise of a boy or girl, single or multiple babies, and some number of limbs. Gosh, I hope it's four per kid. But most of all, I'm excited to stop using "he or she" whenever I talk about my baby, and to call him or her by name.
We skipped the 8-week sonogram and the 13-week genetic testing, deciding from the get-go that this is our baby to love regardless of health, and that we'll face challenges as they come.
So many of my friends and family are also in the baby-making phase of life, and I've come to anticipate a phrase from them that grates against me. It often intensifies around the 20-week ultrasound and goes like this: "I just want my baby to be healthy."
As an unhealthy (but not by choice) person, I find myself wanting to defend the not-yet formed kid against parental anxiety — Hey, they could be tough. Let them take it on.Don't fight their battles for them!
Since my early teens, following a scoliosis surgery that saved my life, I have endured chronic, widespread pain and fatigue, and eventually cancer and a partial thyroidectomy. The battle for health is intimately familiar and never fully won. Having coped with chronic illness for more than a dozen years, I have at times doubted my ability to live through the pain, sometimes because of the pity and worry expressed by others. But many have also encouraged me, by speaking of my strength and nonchalantly making me a cup of tea when I'm too weak to stand, giving me the mental strength to manage better, with more peace.
Striving for peace and endurance in sickness or strife is a positive and achievable goal, but wishing for health often isn't. The refrain "I just want my baby to be healthy" is nothing more than a solemn profession of parental hope, wanting the best for the life we've created, while at the same time admitting a profound lack of control over the whole thing.
To be sure, pregnancy is one of the most beautiful and mysterious of human experiences. Of all the ways humans could possibly come into being — budding, splitting, spontaneous apparition, or what have you — this is the way it happens, with a smaller heart beating right under my own as limbs, sinews, and myelin sheath knit together to form a completely unique and hitherto unknown person, a person who is half me and half my husband with all those recessive genes from our ancestors in a combination we're not nearly wise enough to have selected. I can responsibly take my prenatal vitamins and eat a healthy, balanced diet, but while my baby's cells are made from me and my food, and while a standard pattern exists for their arrangement, my own will has no say in how those cells end up; I don't choose what positive or negative traits are passed on to my baby.
This relative powerlessness over our baby's development is good to keep in mind. It can be terrifying, but it can also be liberating. The baby formed in our womb is the one we get, and the one we should have.
Although I know they say it with good intentions, every time I hear someone say she "just wants her baby to be healthy," I want to tear my hair out. Because however well-meaning she is, however much she's just admitting to the helplessness she feels, the implications of placing the highest priority on health are that an unhealthy child is less of a joy than a healthy one, that the child's life will not be worth living, and that the burden on the parents will be too weighty to withstand.
And yet, I get it. I worry about the health of my baby, too. (I even had a deformed preemie dream in anticipation of writing this.)
While my own condition is undoubtedly weighty, affecting my ability to function daily, it has provided me with deep gratitude and wonder about the small things in life … like the sweet creaminess of raw honey on bread. One pleasurable bite is enough to relieve pain. I get to know honey in all its beauty as my mind travels down the paths of bees and the floral notes dissolve on my tongue. Were I healthy, I don't know that such things would give me pause, much less contemplative bliss. My life is more joyful, not less. So when I falter into fretting about my baby's health, I remind myself that I'm wasting my time. I would never want to take away honey from my child. No one does. (Well, okay, from infants, yes we do.)
Of all the things I want for my child, I don't just want him or her to be healthy. Don't get me wrong, I'd love that gift for my baby. And I'll likely be the mom on the block with a pantry full of homemade remedies because I don't expect perfect health; I expect he or she will have allergies or a heart problem or scoliosis or chronic pain, like me. And if none of the above, I expect sickness, fevers, infections, bouts of vomiting, loneliness, trouble making friends, or making the wrong friends, problems with math or finding God. I can't imagine all the possible sufferings my child will face. And it does me no good to try.
It's a basic human instinct for parents to want to protect their children and ensure their survival; we're hardwired that way. Already, months from delivery, I love my baby. And ultimately, that is what I want for my child: for him or her to know that he or she is loved by God, family, and friends, and to learn to love others, and to be a virtuous human being. It doesn't matter if he or she has no disease, or one or many.
A pain-free life doesn't exist and suffering can teach us empathy, wonder, and gratitude. It gives us space to grow in virtue like nothing else. Each of us chooses to accept or refuse that opportunity when suffering comes our way. A tiny infant has no awareness or ability to learn from pain or disability, but the learning comes soon enough, and it far outweighs physical perfection.
We can't bear our children's wounds for them; we can only support them, teach them to be good, and give them an example of patient, even joyful, suffering through the hardships we face ourselves. Although I may be tempted to wish away my unborn child's trials, I hope instead to have the strength to help my child endure them as they come.
Originally published April 12, 2016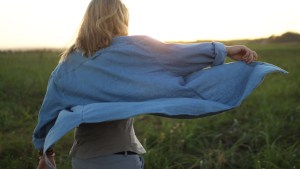 Read more:
How pregnancy forced me to abandon my immodest behavior