It is right to call them heroes.
What can God do in your life with one Bible verse a day?
Subscribe to Aleteia's new service and bring Scripture into your morning:
Just one verse each day.
Click to bring God's word to your inbox
Just like his father before him, my oldest son entered seminary — and just like me, he didn't stay. I hope my other sons will give seminary a try also — and I pray that one is called to be a priest.
Here are the reasons I think they should want to receive that call.
Be a priest because the world needs heroes.
I noticed something at this year's commencement at Benedictine College in Kansas, where I work. The loudest, longest applause of the morning was for those serving the country in the military and those entering religious life.
"Greater love has no man than this, that a man lay down his life for his friends," Jesus says. Soldiers do this by putting themselves in danger of a violent death for us. Priests and religious do it when they offer their lives in the slow martyrdom of a life of service.
It is right to call them heroes.
Be a priest because without priests, we have no access to Christ.
Before ascending into heaven, Christ said, "Behold, I am with you until the end of time." He kept that promise in an astonishing way: the Eucharist. The Eucharistic host is no longer bread; it is Christ himself, truly present.
This is what we have priests for: To bring us the Eucharist — and to prepare us for it in Baptism and Confirmation, bring its healing power to us in the sacrament of the Sick, create strong marriages for more souls to receive it, and provide confession to cleanse us to receive it.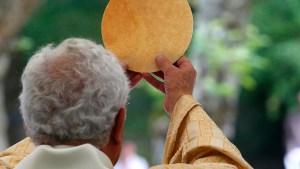 Read more:
The Eucharist IS Jesus, just have faith: Pope Francis
Be a priest to forgive sins.
The importance of confession is hard to exaggerate. It was the only sacrament Jesus instituted after the Resurrection, when he breathed on the Apostles and said, "Whose sins you forgive, they are forgiven."
Confession was the constant subject of urgent appeals from St. John Paul II, and Pope Francis has taken up the same call early and often.
In 2013, he said, "I go to confession every two weeks."

In 2014, he confessed in view of cameras to make a point, saying, "Do not be afraid of Confession!"

By 2018, his 24-hour confession initiative had become a "

worldwide hit

."
Jesus said, "What profit is there for one to gain the whole world and forfeit his soul?" In confession, a priest gives the greatest gift possible, worth more than the whole world: He restores penitents' souls.
Read more:
5 Ways regular confession is making me a much better mom
Be a priest to be a living icon of Christ.
Jesus's real presence in the Eucharist is crucial, but Jesus Christ did not come just as a Presence. He came as a man. That is how the incarnation works. "The whole of Christ's life was a continual teaching," St. John Paul II said, "his silences, his miracles, his gestures, his prayer, his love for people, his special affection for the little and the poor."
Jesus Christ was a man with a face. The human heart still needs to see a man behaving in a Christlike way to fully understand Christ's message. We need someone who "acts in the person of Christ."  We need priests.
Be a priest because the world needs fathers.
In his new book on the Our Father, Pope Francis talks about our "fatherless society" saying that "particularly in Western culture, the figure of the father is seen as being symbolically absent, vanished, removed."
"Things go from one extreme to the other," he says. "The problem in our day no longer seems to be that of the intrusive presence of fathers, but rather … their desertion. Fathers are sometimes so focused on themselves and their work, and occasionally on their individual fulfillment, that they forget their families."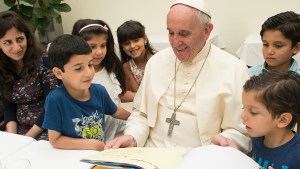 Read more:
Here's the question Pope Francis asks parents of young children in Confession
Without fathers, though, young people are "instead filled with idols, their hearts stolen away; they are driven to dream up amusements and pleasures but are given no jobs, they are duped by the god of money and denied true wealth."
A priest can't take the place of a father in the home. A priest isn't a dad. But priests are true fathers. They preside over the most important moments of our lives. They are male figures to model ourselves after. They huddle with us in the corner, listen to our problems, and advise and absolve us.
Be a priest to expand your family.
Last, Jesus gives the apostles an extraordinary reason to leave their families and follow him.
"There is no one who has given up house or brothers or sisters or mother or father or children or lands for my sake and for the sake of the Gospel who will not receive a hundred times more now in this present age: houses and brothers and sisters and mothers and children and lands," he says.
Priests say that one of the most difficult aspects of being a priest is transferring from one parish to another. It feels like being uprooted from your family.
But the bonds you make in Christ last forever.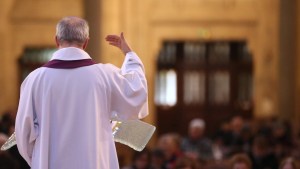 Read more:
On losing your pastor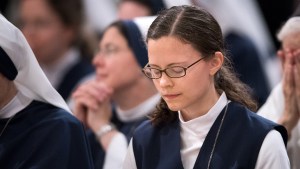 Read more:
21 years old, and entering a cloistered convent? An interview with my little sister