The "Patron Saint of the Impossible" has always been associated with the miraculous.
St. Rita of Cascia was a humble and holy woman who lived in the 15th century. Both during life and after death, St. Rita was a powerful intercessor, always praying for those most in need.
After dying from tuberculosis, Rita was almost immediately connected to multiple miracles. According to author Bert Ghezzi, "Three days later, Domenico Angeli, a notary of Cascia, recorded eleven miracles that occurred upon the saint's death."
Ever since then she has been widely known as a miraculous intercessor, with countless miracles occurring through her heavenly intercession, especially for impossible causes.
Yet, it wasn't until 1900 that Rita was officially canonized. It took three astonishing miracles to pave the way for her canonization, proving that the faithful can pray to this powerful saint without hesitation. Here is a record of these three miracles as noted in the official decree of canonization.
The first miracle consists of that pleasing scent emanating from the remains of the Saint's body, the existence of which is confirmed by many reliable witnesses and trustworthy tradition, so that to doubt concerning this fact would be absurd; moreover no natural cause can be given for the existence of this odor, as we see from the physical research which has been made by men most skilled in such things. Furthermore this odor diffuses itself in a manner above the usual laws of nature. Hence we should be persuaded that this fragrance has its origin through divine intervention.

The other miracle happened to Elizabeth Bergamini, a young girl in danger of losing her sight from smallpox. Her parents, assured by the physicians that the child's condition was so serious that medical aid could be of no avail, decided to send her to the Augustinian Convent at Cascia, beseeching St. Rita fervently to deliver their daughter from approaching blindness. Arriving at the convent, the child was clothed with a votive dress in honor of St. Rita. After four months Elizabeth cried out one day that she could see. Together with the nuns she immediately began to give thanks to God who had wrought such a miracle through St. Rita.

The third miracle happened to Cosimo Pelligrini, suffering from chronic catarrhal gastro-enteritis and hemorrhoidal affliction so serious that there was no hope of recovery. Returning one day from church he became so weak from a new attack of his excruciating malady, that he was near death. Doctors, being summoned, ordered him to receive the last Sacraments, receiving which he lay in the bed with every appearance of approaching death, when suddenly he seemed to see St. Rita in the attitude of greeting him. Thereupon his former strength and appetite returned to him, and within a very short time he was able to do the work of a young man, although he was advanced in years, being a septuagenarian.
Here is a traditional prayer to St. Rita for her intercession in impossible causes.
O Holy Patroness of those in need, St. Rita, whose pleadings before thy Divine Lord are almost irresistible, who for thy lavishness in granting favors hast been called the Advocate of the Hopeless and even of the Impossible; St. Rita, so humble, so pure, so mortified, so patient and of such compassionate love for thy Crucified Jesus that thou couldst obtain from Him whatsoever thou askest, on account of which all confidently have recourse to thee expecting, if not always relief, at least comfort; be propitious to our petition, showing thy power with God on behalf of thy suppliant; be lavish to us, as thou hast been in so many wonderful cases, for the greater glory of God, for the spreading of thine own devotion, and for the consolation of those who trust in thee.

We promise, if our petition is granted, to glorify thee by making known thy favor, to bless and sing thy praises forever. Relying then upon thy merits and power before the Sacred Heart of Jesus, we pray thee grant that [here mention your petition]. Pray for us, O holy St. Rita, that we may be made worthy of the promises of Christ.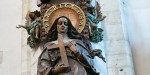 Read more:
4 Saints of impossible causes, and prayers to them