Francis was face to face with a man who lost his dad as a teenager and then was abused by his father figure
Earlier this month, Pope Francis received in person the victims who were abused at the hands of Chilean priest Fernando Karadima. During this meeting, supposedly—there's no way of proving what was said, because it was a strictly private meeting—the topic of the homosexuality of one of the sexual abuse victims, Juan Carlos Cruz, came to the fore.
All we have to go on is a reconstruction of the pope's words, as recounted by Cruz, in an interview granted to the Spanish newspaper El País on May 19. Various international news outlets have reported on the interview, presenting it as evidence of support from Pope Francis for the LGBT cause, when that was not the true nature of the meeting.
"Yes, we did [discuss my homosexuality]," answered Cruz when asked if the topic had come up in his meeting with the pope. "He had pretty much been told that I was a perverse individual. I explained that I am not the reincarnation of Saint Louis Gonzaga, but that I am not a bad person; I try not to hurt anybody. He told me, 'Juan Carlos, it doesn't matter that you're gay. God made you that way and that is the way He loves you, and it doesn't matter to me. The pope loves you this way too, and you have to be happy with who you are.'"
Clearly, the pope's words belong to a very private context, and are reconstructed in the interview in the voice of Juan Carlos Cruz. There is no way to know what his precise phrasing was.
But what we can say without any doubt is that Pope Francis was face to face with a young man who lost his father when he was only 17 years old, and who, instead of receiving support from the priest whom he considered a second father, was abused and manipulated by him. Insult was then added to injury when the leaders of the Church in Chile, along with many of the laity, sought to discredit him.
Francis did what is written in Mark 9:37, where Jesus tells his disciples, "He who receives one of these little ones in my name, receives me, and he who receives me, receives not me, but Him who sent me." This kind of gesture of the pope towards wounded people is nothing new.
From the context of this meeting, we can see that the Bishop of Rome was dealing with a victim who needed to be consoled and loved. He is helping us all with his testimony of how to be "servants" and not "pharisees."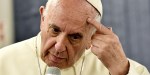 Read more:
Chile's 34 bishops resign, placing their future in the pope's hands


We spoke with Juan Carlos Cruz in Rome after the three-day meeting with Pope Francis at Santa Marta, at the end of the press conference on May 2, 2018, at the offices of the Foreign Press in Italy, when the room had been left nearly empty. He was moved to tears, because Pope Francis had asked his forgiveness and treated him with affection and as a person (as he is) — and not as an enemy of the Church because of reporting his suffering and that of other victims.
The effectiveness of the pope's pastoral approach is clear. During our interview, Cruz said, "It was very emotional for me when he asked for forgiveness. […] He looked me in the eyes. I felt that I was talking to someone tremendously sincere, tremendously moving and moved. […] I don't know, I hope that good things will come from all that has happened, for people who aren't going to feel what I have felt, and never have…"