Resting, it turns out, isn't something you have to be good at.
You can get Aleteia inspiration and news in your inbox. Our specially curated newsletter is sent each morning. The best part? It's free.
Sign up here
Do you ever feel like a certain theme is following you around like some persistent stray? Turn a corner, and there he is again — that shabby old cat. I knew I shouldn't have fed the darned thing. That's how I have been feeling about silence.
Everywhere I went, everything I read, the idea kept popping up. It was starting to get annoying, because if there's anything I know, it's that I'm not good at silence. Silence makes my brain fill up with worries, guilt, and endless, endless lists. Have I cleaned the toilet recently? Am I remembering to read to my son? Should I really have said that to my brother? It's exhausting. Easier to give my mind a little break by listening to some music, or mucking around on the internet.
Anyway, what is silence even for? Does it help you pray better? Does it help your mind and body relax? It regenerates your brain cells; maybe that's why it matters?
Catherine Doherty says silence is resting with God. I never do that. When I'm with God, I'm doing important work! I'm doing examinations of conscience, I'm doing self-improvement, I'm trying to remember what the heck he wants me to do next, who needs my time, and how. I'm panting and gasping towards this impossible version of myself that is always, pathetically, out of reach.
Still, everywhere I looked, I kept seeing the word, not promising to help me make progress, but promised to be valuable for its own sake. Silence isn't for anything. We just need it, full stop. This seemed like total nonsense. What's so special about the mere absence of sensory stimulation?
Eventually, I threw my hands up and said, "Fine, fine. I'll give it a try."
I have an infant and 12 toddlers. (That's not true, I only have one. But he's very active.) So I didn't expect that squishing a little bit of silence into my day was going to be easy, but it was. I started leaving my phone behind when I went to the bathroom — because surely, silence applies to the eyes as well as the ears. I started leaving the radio off in the car. I started spending a little time during the kids' naps, just lying on the couch, staring out the window.
Read more:
Andrea Bocelli in Fatima: Here every breath is a prayer
And to my real surprise, silence is beginning to heal me of what I realize has been my deepest wound: the fear of not being enough. After all, if silence is not "for" anything, then maybe I'm not for anything either. Maybe I am just myself, and I fill up God's eyes as if I am the only one he loves.
Maybe God isn't "for" anything either. Not somebody there to make me better, more loving, more patient, more sacrificial. Maybe he just is, and nothing I can do will elbow him out of my life.
"Resting in God," in the silence, is true rest, rest from the frenzied job of living. I am learning not to use silence for anything, not to think, not to plan, write lists, recite prayers, examine my conscience … all of which are valuable, of course, but life in itself is valuable, too. I am valuable, with or without my busy, busy mind.
Resting, it turns out, isn't something you have to be good at. It's just a state of being — and that makes it precious, so much more precious than I knew.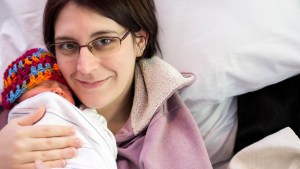 Read more:
Prayer is not about self-improvement, as my newborn reminds me