Thursday is World Day of Prayer for our brothers and sisters of that land
Pope Francis ended today's general audience with a mention of Thursday's feast of the patron of China, Our Lady of Sheshan.
This feast has been lived since Benedict XVI's pontificate as a World Day of Prayer for the Church in China.
Francis said:
This feast invites us to be spiritually joined with all the Catholic faithful who live in China. Let us pray to Our Lady for them, so that they may live faith with generosity and serenity, and so that they may be able to carry out concrete gestures of fraternity, harmony and reconciliation, in full communion with the Successor of Peter.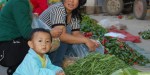 Read more:
China reportedly ready to end limits on family size