For anyone who's ever felt helpless about how to best shine their light, this TED talk is worth your time.
What can God do in your life with one Bible verse a day?
Subscribe to Aleteia's new service and bring Scripture into your morning:
Just one verse each day.
Click to bring God's word to your inbox
In his TED talk "How to speak up for yourself," Dr. Adam Galinsky, a Columbia business school professor and psychologist, addresses an audience of people who historically have had trouble speaking up for themselves — women. He says that women are often, at least in the workplace, to use his words, "low-power" — hence our anxiety at asking for raises or promotions and the reason, presumably, why women are underrepresented in top-level positions.
But what, actually, to do about it? I have often felt that the kind of aggression that is necessary to advocate for myself — for me to be a leading light in the publishing world, for example — requires a certain amount of relentless self-promotion that I just don't have the stomach for. But neither do I want to hide my light under a bushel — I believe I have something to offer the world, even if I can't bring myself to tweet 43 times a day about myself and my genius. If you're at all like me, Dr. Galinsky's talk is heartening: he discusses the research on how people, especially women, can gain greater authority.
Here's where it gets interesting. He doesn't prescribe elbowing your way to the top, double-crossing your colleagues, or spouting off authoritatively about topics you know nothing about.
No, in fact, his research demonstrates that a more authentic — even spiritual — approach is actually the best way to go. For example: there's one situation in which women are perceived as being on equal workplace turf as men — and that's when they advocate on behalf of other people. There is something about being the "mama bear" that gives us authority and confidence in our own voices.
And second, being excellent at something helps us stand out: there is a certain calm authority that comes with really knowing one's stuff. And Dr. Galinsky notes that we become experts by tapping into our passion, by getting quiet and introspective and really considering what our vocations are.
And third, we gain authority by really listening to other people, by considering their point of view. We better understand the people we are trying to help, and, as a happy side effect, we naturally gain support by devoting time to other people.
These are all spiritual lessons, lessons that I think about every day. We each have been blessed with innate talents and passions, and we become "powerful" not by seizing something but by working at it. We become "powerful" by listening to and advocating for other people. It does require reframing the word power a bit — which Dr. Galinsky seems to define more as "having some control over other people," and I define as "the ability to effect positive change in the world." Everyone can stand to gain more confidence in their abilities, especially women, who too often discount their God-given gifts as unimportant or ordinary.
I wish more of the leaders in our world had more of this kind of power — that they felt a calling to serve people, to advocate for them, instead of rule them. But we can only make change in the world by changing ourselves. For anyone who's ever felt helpless about how to best shine their light, this TED talk is worth your time.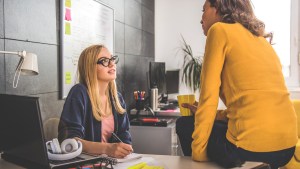 Read more:
Is the way you communicate creating stress at work?