Pope Francis recognized Sister Leonella Sgorbati as a martyr
A  nun who was killed in the uproar after Benedict XVI was accused of criticizing Islam in a speech he gave in Regensburg, Germany, is now recognized as a martyr. Her feast day is September 17.
Blessed Leonella Sgorbati was killed September 17, 2006, in Mogadishu, where she worked at a children's hospital. She was 65 at the time and had already worked in Africa for three and a half decades, five in Somalia.
She was gunned down as she left the children's hospital heading just a few feet across the street to the convent. Her guard and driver, Mohamed Osman Mahamud (a father of four), was also killed.
Though her death came in the aftermath of the Regensburg address, given five days before her death, many Muslims in Somalia condemned her killing, recognizing the service she had given there since 2001.
According to the Consolata Missionary Sisters, her last words were: "I forgive, I forgive, I forgive …"
The Sunday after her death, Benedict XVI mentioned her in his address before leading the midday Angelus:
Sometimes, certain people are asked for the supreme testimony of blood, which also happened a few days ago to the Italian Religious, Sr Leonella Sgorbati, who died a victim of violence. This Sister, who served the poor and the lowly in Somalia for many years, died with the words "I forgive" on her lips: this is the most genuine Christian witness, a peaceful sign of contradiction that demonstrates the victory of love over hatred and evil.
Somalia was embroiled in broader conflict, with its decades of shaky governance, as Sister Leonella recognized.
"I know there is a bullet with my name on it. I don't know when it will arrive, but as long as it does not arrive, I will stay (in Somalia)," Sister Sgorbati said in a March 2006 television interview in Italy.
Sister Sgorbati was recognized a martyr by Pope Francis in November 2017.
Regensburg
Though attributable to a plain misreading, the uproar that surrounded the pope's Regensburg address became one of the most memorable issues of his pontificate.
Benedict XVI made various efforts to bring to light the situation, including addressing the Vatican ambassadors of Muslim-majority nations on September 25, 2006, just some days after Sister Leonella's death.
He told the diplomats that he was continuing the work done by John Paul II, firmly in the context of Vatican II:
I sincerely pray that the relations of trust which have developed between Christians and Muslims over several years, will not only continue, but will develop further in a spirit of sincere and respectful dialogue, based on ever more authentic reciprocal knowledge which, with joy, recognizes the religious values that we have in common and, with loyalty, respects the differences.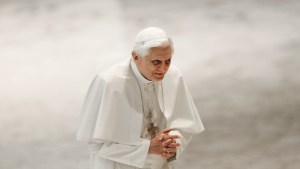 Read more:
The truth about Benedict XVI's resignation: revelations in a new documentary