Hears of their continued suffering from Bangladeshi bishops in Rome this week
"The Rohingya are always in my heart," the pope told bishops of Bangladesh who are in Rome this week for their regular visits with the pontiff and curia.
This was reported by one of the prelates, Bishop James Romen Boiragi of Khulna, in Vatican News Italian.
The eight bishops of Bangladesh met with the pope on May 24.
The prelates updated him on the situation of these Muslim refugees from Myanmar, especially the many children who continue to suffer.
Caritas continues to provide assistance and perform "momentous" work, Bishop Romen said. The pope also asked the bishops to be very close to their faithful, "as a father in a home."
On May 9, Cardinal Charles Bo, archbishop of Yangon, reported that Francis has called for an international conference in support of the Rohingya.
During the Holy Father's December 2017 visit to Myanmar and Bangladesh, he met with some of the refugees.


Read more:
Pope Francis and the Rohingya: "I cried. I tried to hide it."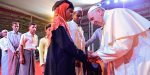 Read more:
Pope: "The presence of God today is also called Rohingya"




Read more:
A cardinal's view of Bangladesh: Teeming with vocations, helping the Rohingya