Irish sculptor emphasizes tradition, anatomy and Theology of the Body.
Need an idea for Lenten almsgiving?
Help us spread faith on the internet. Would you consider donating just $10, so we can continue creating free, uplifting content?
Make a Lenten donation here
If you think you're having a bad day, consider Dony Mac Manus.
In 2001, Mac Manus, an Irishman living in New York City, had a string of bad days. It began with the grim news that a New York policeman, the father of some kids Mac Manus had been babysitting, sat his family down one evening and put a bullet through his head.
After visiting the scene of the tragedy and trying to console his young charges, Mac Manus went home to his apartment in Queens. In the middle of the night he awoke to the sounds of moans and groans in the back yard. A neighbor who lived on the upper floor had thrown himself out the window, killing himself.
Later that Spring, the art school Mac Manus was attending in the Tribeca section of Manhattan burned down. A crucifix he had sculpted for his degree show was damaged when an upper floor collapsed on top of it. Weeks later, on September 11, the two firemen who had retrieved the crucifix from the rubble were killed in the collapse of the Twin Towers of the World Trade Center.
"September 11 was like, 'After all that? I really need to get out of here,'" Mac Manus said in an interview, still sounding exasperated 16 and a half years later. He flew home, but when his brother picked him up at the Dublin airport, he greeted him with news of a friend who had killed his wife and two children.
It was perhaps providential, then, that Mac Manus' next stop was Rome, to enter a sculpture competition at the Vatican. He didn't get the commission, but while he was there, he did drawings of Michelangelo's Pieta, from three different angles.
Copying the Pieta forced him to contemplate the sculpture—"one of the most beautiful images in history," he said—and what it represents—"the most horrific event in history: deicide." The experience, he said, was the antidote he needed after witnessing so many horrific events.
What moved Mac Manus was a combination of Michelangelo's skill and spirituality. "I was being nourished by the overflow of the interior life of the great master. That gave me a tremendous appreciation of the profundity of this inheritance and that this is something that is of extraordinary value."
Drawing the Pieta helped him realize that "if this work of art can heal everything, all the wounds I'd just received, then if I can even just get a tiny piece of this magic from Michelangelo, I might be able to contribute something to the world, or at least be able to teach a new generation to do it much better than me," he said. "I felt this urgency to be a protagonist, not just a consumer of culture, and get out there and make my contribution to the history of art as best I can, and it was very liberating to realize that you don't have to be a Michelangelo or any of these great artists, but you can be [like] somebody who was in the background of their career, who created a space in which Michelangelo could exist."
Eventually, Mac Manus would have the opportunity to create that space—and in a place once used by one of the Masters, no less. In Florence, Italy, the Dominican Friars allowed him to use the former studio of Fra Angelico to begin a Sacred Art School. Like Fra Angelico, Mac Manus strove to make art and teach art so as to glorify God. But he brought with him a slightly different perspective, engendered of his own experiences and the time in which he lives.
Born in Dublin in 1971, he was introduced to art at an early age. When he was seven, his mother, an artist, gave him some clay to work with and the suggestion that he could form it into "a little car or an elephant" or just about anything. Any youthful idealism he had about the art world, however, was dashed when he went on to higher studies. At the National College of Art and Design in Dublin, he was kicked out of sculpture class because "I wouldn't conform to the deconstructionists', relativists' diatribe," he said.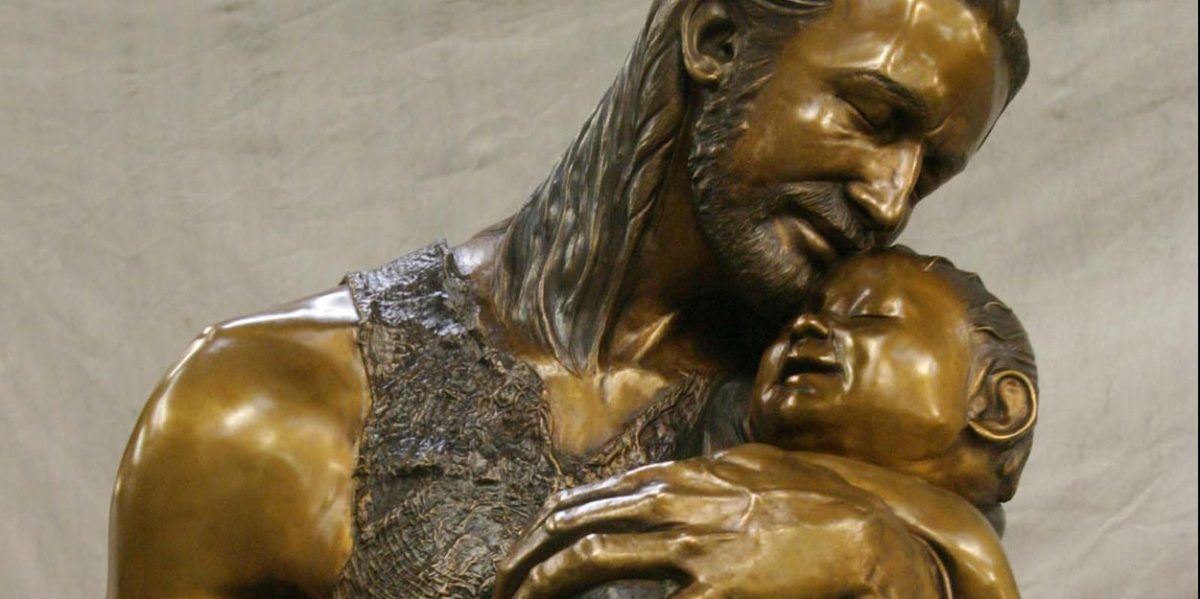 Launch the slideshow
It was, in a way, his first introduction to the ideological revolution of the 1960s, and its intellectual architects, notably, Michel Foucault and Jacques Derrida.
"Those guys essentially infiltrated the university systems across the West," Mac Manus explained. "They basically deconstructed English, philosophy, theology, architecture, art—every discipline you could think of—which were designed to penetrate the great European tradition, the Greco-Roman, Judeo-Christian roots of our culture and to bring forward those ideas. … In art school they wouldn't teach us to draw or to paint or to sculpt; they would tell you to go to the library and to get an idea, and then when you have the idea then you'd find objects and see if you can communicate your idea through found objects, like sticking two cans of Coke together, covering it with glue and maybe a bit of garbage. Just absolute relativistic nonsense. Basically, because you are an art student, you're a genius. You are an artist. There is no standard, there is no discipline. … It's probably the most deconstructed profession in history at this stage, because there's absolutely nothing that an artist can do that can be in any way questioned. He could spit on the ground and that's a work of art."
Nevertheless, the work Mac Manus did for his degree show was selected by the National Museum of Ireland for permanent display to launch its contemporary silver collection. He went on to receive a $20,000 Millennium Scholarship Trust from the Bank of Ireland to do a Masters of Fine Art degree at the New York Academy of Art, where he found an approach quite different from his Irish education—more academic and more formal.
Sculpting the crucifix at the New York Academy turned out to be a life-changing experience.
"What I wanted to do was create this crucifix which personified essentially the body of Christ," he said. "It's an academic study of the crucifixion in bones and muscles, so I'm contemplating the body of Christ. I wanted to really challenge my faith in God in my primary language, which is form, so: 'Do I really believe that God became bones, became flesh?' Also, I did it in the context of Michelangelo's design theories: the pyramid and the spiral, the pyramid for stability, the spiral for movement."
The project was titled Corpus Christi. A priest-friend stopped by his studio and commented on it: "What you're doing here is very similar to Pope John Paul II's Theology of the Body." Mac Manus had never heard of the theory, based on a series of talks the pope had delivered at the Vatican. But after listening to tapes by Theology of the Body proponent Christopher West, Mac Manus was convinced of its monumental importance.
"I started teaching it at the New York Academy to other students in my studio. Every Friday evening, I had an open forum on Theology of the Body, and my studio was packed," he recalled. "That went on until 3 o'clock Saturday morning in the bars in Soho, talking theology, and it was a lot of fun. These are artists coming from all over the world studying everything about the human body, except for what it meant, and here they got what it meant."
According to Theology of the Body expert Bill Donaghy, Pope John Paul's thought is a "refreshed, renewed vision of the beauty and dignity of the human person and of our universal call to love and communion, which is written in our very sexuality as male and female."
"It was a real gift, and it became the real nucleus of my apostolate with artists, helping to bring artists to the faith, because they started to have an actual practical real relationship that actually had something to say," Mac Manus said. "It wasn't just an ideology or academic. It was something that actually had something very valuable to contribute to their work and their understanding of who they are."
If the body is sacred, Catholic artists needn't be held back by any false ideas about modesty. In fact, drawing or sculpting from live nude models is essential, in Mac Manus' view. "If you have a full command of the human body, then you have everything," he said. "It communicates the most sophisticated and most beautiful thing in the world, which is the human condition, the human soul. … That means you can enter into a dialogue with that reality of the human person before you."

Around the same time, Mac Manus discovered Pope John Paul's Letter to Artists. In 2009, after living in Florence for some time, he called together a number of Catholic artists living there for a discussion on the renewal of artistic culture.
"So we went through the Pope's letter together; we unpacked the whole thing," he recalled, "and just as I was finishing the last page, I saw the date and said to myself, 'My God, it's exactly 10 years ago today that this was written.'"
That was the start of the Sacred Art School in Florence, he said.
Meanwhile, Tokyo native Osamu Tanimoto had come to Florence to study the Old Masters.
"I wanted to paint like them," Tanimoto said in an interview. "I didn't know about the Gospel or the Church. I was copying their paintings. They're beautiful, but I started to realize there was something I didn't quite understand. There was something behind those paintings that made those paintings beautiful."
Tanimoto met Mac Manus at an exhibition and expressed his curiosity. Mac Manus invited him to his studio and to Theology of the Body lectures. The two entered into a dialogue, and Tanimoto became one of the first students in the Sacred Art School.
With parents who were "cultural Buddhists," Tanimoto grew up agnostic. But he "had an intuition that there was something beyond ourselves. So somehow I was searching for God. I was interested in the beginning and end of the universe, where we come from, where we go after death."
Mac Manus offered to read through the Catechism with him.
With Theology of the Body serving as a sort of spiritual underpinning, Mac Manus' courses focus on beauty and on the human body, Tanimoto said. "It's the most beautiful design of God's creation. God made us in his image. So studying the nude is very much like in a way having a communion with God. We are seeing the most beautiful design by God."
The teacher led Tanimoto's class through a deep examination of a painting of the Annunciation by Jacopo Pontormo, showing how the artist followed a strict adherence to anatomical details to bring out beauty and grace in an apparition of the Archangel Gabriel.
"I never thought there is such an interiority in the art world," Tanimoto reflected. "So it was artistically a big revelation, first of all, and spiritually too because I could feel this beauty. … And that comes from both science and his faith. It also revealed that science and faith can shake hands and make something beautiful, something that God wants from us. You rarely see this in contemporary art."
Tanimoto was baptized in 2010, at the age of 28.
New York native Shana Smith was already Catholic, and already familiar with Theology of the Body, when she studied at the Sacred Art School. But the experience inspired her to emulate Mac Manus' approach.
"With Dony's approach it really inspired me in my work in a Catholic high school," said Smith, who teaches at St. Ignatius College Prep in Chicago. "The whole reason I wanted to work in a Catholic school was that I wanted to be for my students what Dony was for me, to put them in contact with sacred art and to go forward with the tradition. Dony created an opportunity to put us in dialogue with the Old Masters."
Mac Manus is no longer affiliated with the school in Florence, but might be initiating a similar project in Venice soon. A short film about his work and vision is about to be launched in the United States.
"Dony is trying to revive the tradition of Baroque and naturalism—as I am in the Gothic and naturalism tradition," said artist David Clayton, founder of The Way of Beauty. "What we're trying to do is reestablish these traditions, so it's not an unthinking historicism, it actually lives and breathes and develops within the bounds … reapplying them in ways that speak to people today. I don't think we're there yet. I don't think anyone is. But Dony is certainly one of the leaders. He's one of the leaders in sculpture in the naturalistic field. … and he connects this with the Christian worldview and understanding of the human person."
As for the place of Theology of the Body in art, Clayton said that what's needed in art today is a "general and deep understanding of anthropology of the human person, and if you come into that from the Theology of the Body, that's great, and that's what Dony has done."