Irish sculptor emphasizes tradition, anatomy and Theology of the Body.
If you think you're having a bad day, consider Dony Mac Manus.
In 2001, Mac Manus, an Irishman living in New York City, had a string of bad days. It began with the grim news that a New York policeman, the father of some kids Mac Manus had been babysitting, sat his family down one evening and put a bullet through his head.
After visiting the scene of the tragedy and trying to console his young charges, Mac Manus went home to his apartment in Queens. In the middle of the night he awoke to the sounds of moans and groans in the back yard. A neighbor who lived on the upper floor had thrown himself out the window, killing himself.
Later that Spring, the art school Mac Manus was attending in the Tribeca section of Manhattan burned down. A crucifix he had sculpted for his degree show was damaged when an upper floor collapsed on top of it. Weeks later, on September 11, the two firemen who had retrieved the crucifix from the rubble were killed in the collapse of the Twin Towers of the World Trade Center.
"September 11 was like, 'After all that? I really need to get out of here,'" Mac Manus said in an interview, still sounding exasperated 16 and a half years later. He flew home, but when his brother picked him up at the Dublin airport, he greeted him with news of a friend who had killed his wife and two children.
It was perhaps providential, then, that Mac Manus' next stop was Rome, to enter a sculpture competition at the Vatican. He didn't get the commission, but while he was there, he did drawings of Michelangelo's Pieta, from three different angles.
Copying the Pieta forced him to contemplate the sculpture—"one of the most beautiful images in history," he said—and what it represents—"the most horrific event in history: deicide." The experience, he said, was the antidote he needed after witnessing so many horrific events.
What moved Mac Manus was a combination of Michelangelo's skill and spirituality. "I was being nourished by the overflow of the interior life of the great master. That gave me a tremendous appreciation of the profundity of this inheritance and that this is something that is of extraordinary value."
Drawing the Pieta helped him realize that "if this work of art can heal everything, all the wounds I'd just received, then if I can even just get a tiny piece of this magic from Michelangelo, I might be able to contribute something to the world, or at least be able to teach a new generation to do it much better than me," he said. "I felt this urgency to be a protagonist, not just a consumer of culture, and get out there and make my contribution to the history of art as best I can, and it was very liberating to realize that you don't have to be a Michelangelo or any of these great artists, but you can be [like] somebody who was in the background of their career, who created a space in which Michelangelo could exist."
Eventually, Mac Manus would have the opportunity to create that space—and in a place once used by one of the Masters, no less. In Florence, Italy, the Dominican Friars allowed him to use the former studio of Fra Angelico to begin a Sacred Art School. Like Fra Angelico, Mac Manus strove to make art and teach art so as to glorify God. But he brought with him a slightly different perspective, engendered of his own experiences and the time in which he lives.
Born in Dublin in 1971, he was introduced to art at an early age. When he was seven, his mother, an artist, gave him some clay to work with and the suggestion that he could form it into "a little car or an elephant" or just about anything. Any youthful idealism he had about the art world, however, was dashed when he went on to higher studies. At the National College of Art and Design in Dublin, he was kicked out of sculpture class because "I wouldn't conform to the deconstructionists', relativists' diatribe," he said.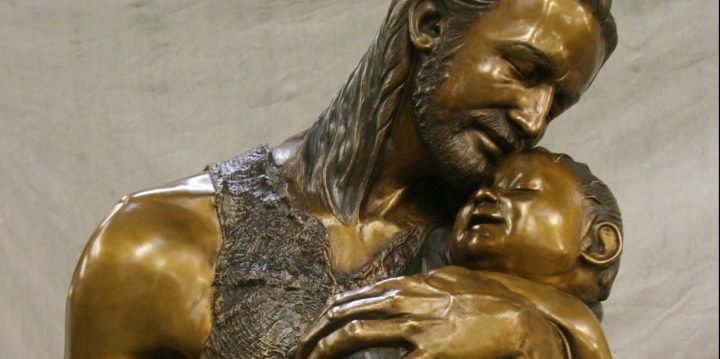 Launch the slideshow
It was, in a way, his first introduction to the ideological revolution of the 1960s, and its intellectual architects, notably, Michel Foucault and Jacques Derrida.
"Those guys essentially infiltrated the university systems across the West," Mac Manus explained. "They basically deconstructed English, philosophy, theology, architecture, art—every discipline you could think of—which were designed to penetrate the great European tradition, the Greco-Roman, Judeo-Christian roots of our culture and to bring forward those ideas. … In art school they wouldn't teach us to draw or to paint or to sculpt; they would tell you to go to the library and to get an idea, and then when you have the idea then you'd find objects and see if you can communicate your idea through found objects, like sticking two cans of Coke together, covering it with glue and maybe a bit of garbage. Just absolute relativistic nonsense. Basically, because you are an art student, you're a genius. You are an artist. There is no standard, there is no discipline. … It's probably the most deconstructed profession in history at this stage, because there's absolutely nothing that an artist can do that can be in any way questioned. He could spit on the ground and that's a work of art."
Nevertheless, the work Mac Manus did for his degree show was selected by the National Museum of Ireland for permanent display to launch its contemporary silver collection. He went on to receive a $20,000 Millennium Scholarship Trust from the Bank of Ireland to do a Masters of Fine Art degree at the New York Academy of Art, where he found an approach quite different from his Irish education—more academic and more formal.
Sculpting the crucifix at the New York Academy turned out to be a life-changing experience.