Salesian sisters begin work of rebuilding.
A four-alarm fire on May 18 caused serious interior and structural damage to a New Jersey chapel, but the sisters of the province expressed their relief that "the most precious item in the chapel" was rescued: the tabernacle.
The Chapel at Mary Help of Christians Academy in North Haledon, New Jersey, began burning in the wee hours of Friday, May 18. It took till 4 am until it had finally been extinguished.
A statement from the Salesian Sisters of St. John Bosco said that the chapel, originally built in 1976 and renovated just two years ago, was "the heart of the Academy as well as the center of activities for the St. Joseph Province of the Salesian Sisters."
"Though our hearts are heavy," they said, "we are fortunate to be able to report that no one was harmed and that firemen were able to rescue the most precious item in the chapel: the tabernacle."
Donations are already coming in for the sisters to rebuild the chapel.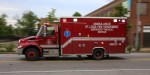 Read more:
How to help First Responders and remember a key Christian truth at the same time