He didn't mind being ridiculous if it would keep him humble.
What can God do in your life with one Bible verse a day?
Subscribe to Aleteia's new service and bring Scripture into your morning:
Just one verse each day.
Click to bring God's word to your inbox
St. Philip Neri, an Italian priest from the 16th century, is commonly known as the "patron saint of joy," and the "humorous saint." He wasn't exactly a comedian, but he did enjoy poking fun at himself, using humor to maintain his humility.
Read more:
5 Classic Catholic jokes
For example, according to author Shaun McAfee, "Neri was known to show up to important events with half his beard shaved, give incorrect walking directions to his disciples, read a book of jokes … When he did each of these things he caused a mix of emotions in others, but it always ended up producing the same end state: increased humility, and increased patience."
Additionally, he needed light-hearted jokes to keep his mind focused on celebrating Mass. Mary O'Regan relates, "in order to concentrate before offering Mass, St. Philip would need to hear jokes or read humorous anecdotes which distracted him just a little from total absorption in the glory of God, so that he was able to concentrate on the task at hand, which was to offer the Holy Sacrifice of the Mass." In this case humor grounded him, bringing him back to earth so that his mystical union didn't prevent him from fulfilling his duties.
Another story from EpicPew explains, "Once, when a scholarly Bishop who was used to the stoic seriousness of his office attended Philip's mass, [t]o lighten the ambiance, Philip committed every possible error in pronunciation during that homily. The crowd wasn't sure if they should laugh or remain silent. Philip himself likely laughed for days after the Mass, but maintained his mispronouncing character throughout the entire sermon."
These humorous antics were done to remind himself of his own imperfections. St. Philip wasn't trying to be disrespectful or uncharitable, but to keep his prideful nature in check.
Read more:
Pope's advice for parish workers: Don't take your coffee with vinegar!
St. Philip Neri also hung a sign on his door that said, "The House of Christian Mirth." In all things Neri maintained a light-hearted view of the world, using humor to keep him from being too prideful or vain.
In a certain way, his life can be best summarized by an oft-cited quote of his, "A heart filled with joy is more easily made perfect than one that is sad." This proved true in the life of St. Philip Neri and was also a reason why many were attracted to him. Others saw the joy he had and wanted to know the source of that joy.
As Pope Francis would say, to be a Christian doesn't mean being "gloomy-faced," but being filled with a levity of heart that recognizes the beauty and joy of Christian life. Humor in the right context can be a good thing, and even a pathway to holiness.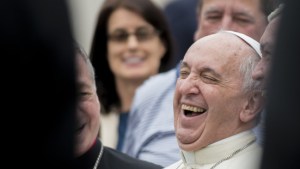 Read more:
Three short (and hilarious) Catholic jokes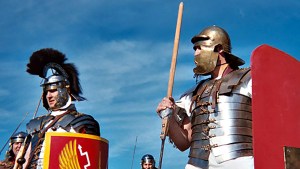 Read more:
Talk about "old jokes"…here's some knee-slappers from ancient Rome