Social skills educator Brooks Gibbs shows two ways a victim can react to bullying, with very different outcomes.
You can get Aleteia inspiration and news in your inbox. Our specially curated newsletter is sent each morning. The best part? It's free.
Sign up here
For reasons that are varied and complex — including factors arising from both "nature" (a person's temperament and constitution) and "nurture" (upbringing and environment) — some people feel a need to hurt those who are weaker than they are. It is a fact that in practically every school and classroom we can find students who enjoy humiliating others.
Among teenagers, malicious comments about others' appearance (very important at that age), wealth, intellect, and prospects for the future are prime ways to hurt others. Sometimes, when I hear the words used by students to insult others, I realize that even my imagination — which I consider to be very well developed — has really narrow limits here, compared to theirs. Kids can be extremely cruel and ruthless, and they aim for each other's weakest points.
Taunting, ridicule, and harassment among peers are all deeply hurtful, and can cause hopelessness and a deep resentment in victims toward the school where it takes place. Often, however, children or teenagers bullied by other students at school don't talk about it at home. It can be hard for them to share how they suffer from teasing and social isolation, which make them feel lonely, lost and helpless.
What can the victims of bullying do?
Fortunately, there are solutions.
First, the stigma of bullying needs to be placed firmly on the bullies, not on the victims. Kids who suffer bullying have to be taught that it's not their fault, and that they should report abusive behavior to their parents and to school authorities, especially if there is physical violence involved. Victims may feel embarrassed and ashamed that they are unable to handle the situation on their own, and there is a "code of honor" that condemns "tattling" on peers, but they need to be made to understand that there's nothing wrong with denouncing bad behavior and asking for help when we need it.
Second, on their part, the adults who receive these reports need to act on them. The victims should never feel ignored or left alone. It's not enough to tell them, "Stand up for yourself," or, "Why don't you just hang out with other kids?" It's never that simple. Bullies will hunt their victims, and if the victims try to "stand up for themselves" by reacting with anger or violence, this will only perpetuate a situation of conflict.
Nevertheless, it is true that victims can learn techniques for defending themselves, especially from verbal aggression. There is a great video by social skills educator Brooks Gibbs that's been circulating on the internet, showing two ways a victim of verbal bullying can react to the bully, with very different outcomes. The key to disarming the bully is not to try to out-do them with insults (which could actually be counter-productive, leading to an escalation from verbal to physical abuse), nor to protest that the bully is "hurting your feelings" (which is exactly what the bully wants to do). Rather, victims need to learn to react with calm and self-confidence, without letting the bully get under their skin. Easier said than done, of course; so, watch the video — Gibbs explains it better than we ever could!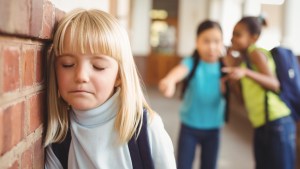 Read more:
Preventing bullying and isolation is easier than you think