This truth of our faith is not easy to visualize, but artists through the centuries have brought their skills to their devotion.
When you think of the Blessed Trinity, what image comes to mind?
This central truth of our Christian faith – that God is one God in three divine Persons, Father, Son, and Holy Spirit – is not the easiest doctrine to put into words, never mind visualize. Most of us fall back on abstract symbols: the Sign of the Cross we learned to make as children, the first time we invoked the Trinity in prayer; the equilateral triangle; St. Patrick's trusty shamrock.
These, along with the Celtic triquetra (or "cornered circle") with its three interlocking pointed ovals, are all excellent and time-tested symbols that serve as shorthand for a deep mystery.
Read more:
5 Ancient symbols of the Trinity
Our belief in the Blessed Trinity, however, is more than an abstract theological idea. The Trinity is a relationship – the most intimate of all relationships, the union in love that brings forth and redeems and transforms all creation – and our faith in the Trinity is relational, too.
That is why, despite the difficulties presented in depicting the Oneness of Three, artists through the centuries have attempted to depict the Blessed Trinity in devotional art that draws on the conventions of flesh and blood, the incarnate world. All such images, of course, like all our words, fall short of the fullness of the mystery, the Beatific Vision that is reserved for the blessed in heaven.
But in celebrating the Solemnity of the Most Holy Trinity, it is worth exploring some of these images prayerfully. Here are a few to linger with: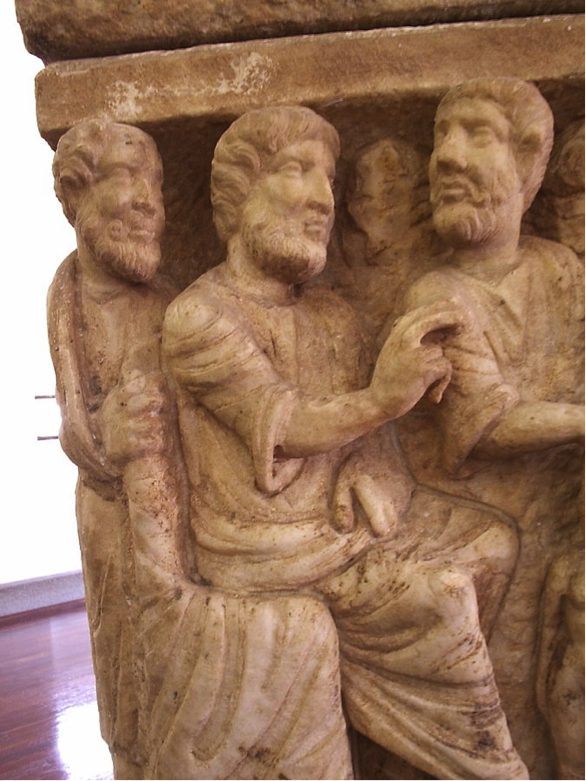 One of the earliest images of the Blessed Trinity in Christian art features three nearly identical persons. Carved on a 4th-century sarcophagus, this "teaching image" depicts the Three Persons of the Trinity in the act of creating Eve. Father, Son, and Holy Spirit are not yet distinguished by identifying characteristics but are closely joined in the composition.