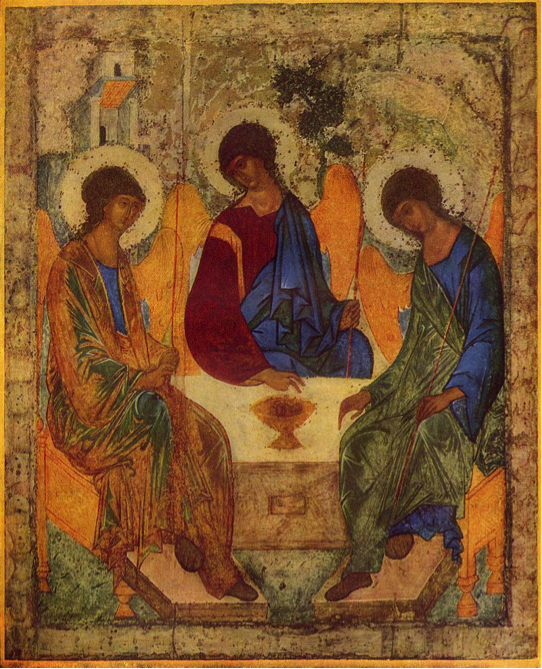 The Eastern Church continues the tradition of depicting the Trinity as figures similar in age and facial features, but introduces symbolic differences indicated by color and position. This icon by the great Andrei Rublev draws on the tradition that the 3 angels who visit Abraham and Sarah with the news of Isaac's miraculous conception (Genesis 18) prefigure the Blessed Trinity.
Most scholars identify the angel on the left with the Father. He wears a gold robe of majesty over the blue of divinity and is blessing the cup that contains the head of the sacrificed calf. Above the Father is a house, symbolizing the "Father's house" of heaven. The angel in the center depicts the Son. He wears a red robe of humanity with the blue cloak of divinity over it and holds his right hand in the gesture that signifies Christ's dual nature. Above him is the oak tree of Mamre, where Abraham's tent was pitched, which signifies the wood of the cross. The angel at the right is identified with the Holy Spirit. He wears a blue robe of spirituality with a green cloak symbolizing hope. Above his head are mountains, symbolizing the ascent of the soul the Spirit inspires.
All three Persons are seated at the same level, indicating their equality, but the Son and the Spirit bow their heads in the direction of the Father.