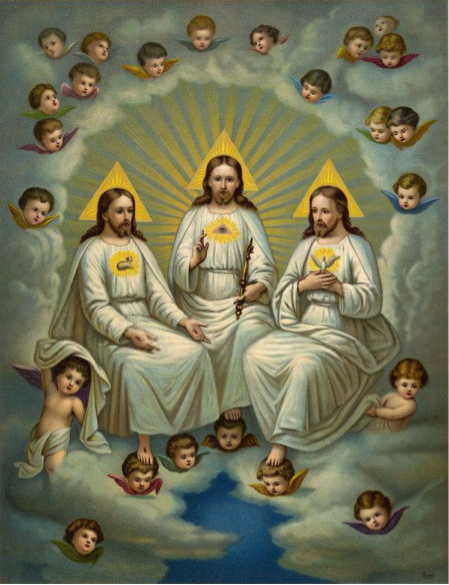 In an unusual departure (even for the artist, who produced many other images of the Trinity employing standard Western iconography), illustrator Fridolin Lieber returned to the early Eastern representations of the Blessed Trinity for this print, although this particular model, known as the "Triplet Trinity," was forbidden by pope Urban VIII, and most of the representations of the Trinity that followed this model were actually repainted during the XVII and XVIII century. Lieber, who made posters for use in Christian religious education, here depicts the Persons of the Trinity as three men identical in age, wearing identical white robes and each depicted with a halo formed by an equilateral triangle.
Lieber has included identifying characteristics, however, drawn from symbolic iconography. The Father, in the center, holds the scepter of sovereignty, and bears on his chest the image of the Eye of Providence, an eye within a triangle that symbolizes the Father's eternal watchfulness. The Son, on the left, bears the wounds of the crucified Christ, and on his breast is the image of the Lamb of God. The Holy Spirit, on the right, has his hands folded in prayer and wears the symbol of the dove.
If you were an artist commissioned to depict the Blessed Trinity, how would you choose to portray this mystery of faith?