The decision is about more than just being a neat freak.
Growing up, whenever I was asked to remove my shoes in someone else's house, I figured the host was either excessively concerned with the well-being of their floors or simply a neat freak. Having had zero concept of bacteria, it never crossed my mind that potentially harmful pathogens subsisted on the bottoms of my shoes.
Nowadays, as a mom who's slightly more familiar with microbiology and has suffered the ramifications of bacterial spread, the shoes-off-in-the-house rule is one I firmly enforce. Don't get me wrong: I'm far from a clean freak (though my husband might disagree) and I'm aware of the importance of exposing children to germs in order to build their immune systems. My kids have crawled around on airport floors and eaten many a stale Cheerio out of grotesque corners and crevices. But when it comes to keeping the microbes accumulated on our shoes off the kitchen floor, I don't mess around.
Apparently, research affirms this stance, at least according to studies conducted at the universities of Houston and Arizona and summed up by LifeHack. Dr. Kelly Reynolds, a microbiologist at the University of Arizona, reveals, "potentially harmful bacteria can survive on your shoes for days or even weeks."
For starters, the most prominent type of pathogen found on people's shoes was Clostridium difficile, often called C. diff for short. It appeared on 40 percent of the bottoms of sampled shoes. Although not necessarily life-threatening, since "C. diff actually exists all around us … in the air, water, soil" as WebMD explains, this particular bacterium is extremely resistant to antibiotics. In other words, if it proliferates and causes an intestinal infection, it's tremendously difficult to treat. Despite the fact that "many people have the bacteria in their intestines and never have any symptoms," it's certainly one worth avoiding when possible in order to keep it at bay.
Escherichia coli, aka E. coli, was another type of bacterium the researchers identified on shoes. Like C. diff, E. coli is not something we ought to avoid at all costs. "Most E. coli are harmless and actually are an important part of a healthy human intestinal tract," the Center for Disease Control and Prevention explains.
However, there are some icky strains of E. coli, like E. coli 0157:H7, that are far less welcome guests in our intestines. This one is responsible for "severe stomach and intestinal problems leading to vomiting and diarrhea." Needless to say, we all probably want to steer clear of that if at all possible.
Finally, LifeHack notes Klebsiella pneumoniae as another bacterium on the bottoms of shoes. This is one we don't want to take any chances with, since it contributes to lung damage and even pneumonia. In fact, the death rate from Klebsiella pneumonia is pretty significant, at 50 percent of those who contract it.
In total, the University of Arizona found about 421,000 different bacterial units on shoes.
Thankfully, the risk of contracting a disease due to bacteria from shoes worn inside the house is actually relatively low. Michael Loughlin, principal lecturer at the school of science and technology at Nottingham Trent University explained to The Independent that "there's [no] cause to be concerned about the bacteria spread from wearing shoes indoors, unless you've had the misfortune of walking through animal feces."
Still, it's only natural for homemakers to desire cleanliness for their floors, especially if there are toddlers crawling around. Loughlin stated, "It is all about managing risk" and taking simple, sanitary actions like using detergent to clean shoes can eliminate traces of fecal matter and decrease overall bacterial content by 90 percent.
But aside from sparing the floor from whatever gunk manages to accumulate on soles, the-shoes-off-at-the-door rule can be a refreshing reminder to family members and guests of their transition from outside to inside. Jenny Nakao Hones, interior designer and co-author of Feng Shui: Truths, Myths & Misconceptions, explained to Reader's Digest, "taking off your shoes … mentally prepares you to make the transition of leaving the outside energy at the door and reminding you that you're entering a different space." She added, "It's also a sign of respect. You are respecting the hosts, the environment or structure, and others that use the place."
A home should feel like a haven for family members and a peaceful space for guests. In order to achieve this aura, it helps to emphasize the distinction between interior and exterior, and the removal of footwear is a simple, customary way to do this.
Brian Sansoni of the American Cleaning Institute once remarked, "There's something about a clean house, a clean room. It does wonders for the psyche." Maybe amidst the chaos and frequent clutter of flitting family life, one of the easiest ways to maintain a home's cleanliness is to leave the grit from the ground outside and prepare our feet for the atmosphere within.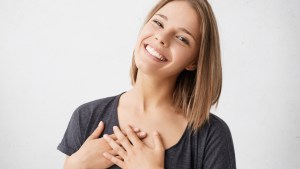 Read more:
Why manners are the glue that holds society together