Researchers are discovering just what's going on on those first few months of life.
What can God do in your life with one Bible verse a day?
Subscribe to Aleteia's new service and bring Scripture into your morning:
Just one verse each day.
Click to bring God's word to your inbox
Psychologists and researchers agree that we are reaching a new understanding of child development, with implications for understanding a person's entire lifespan. It's clear we need to see development as a never-ending process of reorganization, progress, and setbacks, as our lives continue to grow and change.
Let's take a look at some points that may be useful to parents who are in the throes of their newborn's first month:
Babies' perception and linguistic capacities
Perception abilities allow us to receive information from the external environment through the senses, and organize it into images, sounds, flavors, smells, textures, etc.
In babies, perception is remarkably developed from the start:
Within a few days of birth, babies recognize where sounds come from, anticipate the movement of objects, and identify their mother by her smell and voice.
Amazingly, they imitate adults' gestures, such as sticking out their tongue. Despite the fact that they're just discovering their own bodies (it's fun to watch them marvel at the movement of their own hands and feet, for example), they recognize the similarity between their body and that of the adults around them.
Adults' use of language and communication allows babies to learn and understand, for example, temporal variations of speech and voice rhythms.
All these perception and language capacities that seem implicit and obvious are much more complex than we in the adult world would expect.
A baby's amazement is, in itself, revealing
Babies show surprise when they encounter impossible events. But this surprise is in itself revealing!
It shows that their cognitive abilities are quite fine-tuned.
Their surprise shows that they function in a world with laws to which they have adapted and that therefore they are amazed at events that seem to defy those laws.
Last but not least, surprise is one of their ways of knowing the world, and an indicator of what they "know," which is why parents should pay attention when their babies show amazement.
What we need to really know about our babies
Knowing babies' enormous capacities requires us to understand them in a different way, to try to get to know what they know. We have to change the way we relate and interact with them.
Babies are able to know and do many things in their first days, so it's best if parents can:
Lavish them with affection and attention, and be present to them.
Observe them better to try to identify the progress they are making, what they know, what surprises them, what they prefer, what they like, and also, to know why they are achieving those things.
Be attentive to how they are getting to know the world and how they manage to grasp it, and accompany them in the best possible way on that journey.
Baby steps in feeling and understanding emotions
Through shared emotions, babies generate, exchange, and interpret emotions in their relationship with others. They actively create affective bonds and build their social world.
Babies are able to perceive when our gaze is directed to a specific object or event. They experience it as a kind of "wake-up call" that invites them to get involved with that same aspect of the environment.
When the adult invites the baby to focus on a situation, person, or object, and thus makes him participate in that event, a triangular relationship is established. There is now an I, You, and He/She/It involved. Language also plays a fundamental role in this triangulation.
Soon after, this communicative role is reversed and it is the baby who invites the adult to see or manipulate some aspect of reality that he finds interesting. To do so, babies use various behaviors to communicate their needs, such as crying, laughing, or gurgling.
Since it is clear that babies are much more perceptive than they may initially seem, we must consider the implications: principally, the fact that we are teaching our children what is important to us and how to act, long before they are capable of formulating or fully understanding verbal or written communication.Their education starts from the moment they leave the womb.
Do we want them to grow up focused on loving people in front of them, or focused on a screen? Do we want them to appreciate beauty, goodness, and virtue, or to feed themselves on sensationalism and scandal? Do we want God and our faith to be important in their lives? We can examine our own consciences, and ask ourselves if a perceptive baby, who can't fully understand our words, will learn these values and behaviors from our actions.
Read more:
The best way to deal with your child's nightmares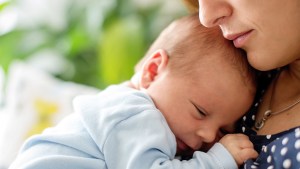 Read more:
Your baby's favorite perfume fragrance? Mom