Similar to the Stations of the Cross, this devotional highlights the scripture passages referring to the Most Blessed Sacrament.
What can God do in your life with one Bible verse a day?
Subscribe to Aleteia's new service and bring Scripture into your morning:
Just one verse each day.
Click to bring God's word to your inbox
The Franciscans are well known for their introduction of the Stations of the Cross into local churches around the world. It is a popular devotion based on the events surrounding Jesus' Passion and death. In recent years other devotional "stations" have been introduced, including one known as the "Stations of the Eucharist."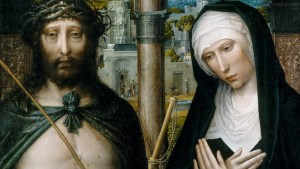 Read more:
A Marian alternative to the Stations of the Cross
This devotion is similar to the traditional Stations of the Cross in that it features 12 "stations" that are based on various scripture passages. In this context the passages come from the Old and New Testaments and are focused on the Holy Eucharist.
The Poor Clares of Perpetual Adoration in Hanceville, Alabama (formerly led by EWTN founder Mother Angelica), are strong promoters of this devotion and have developed beautiful meditations for each station. They explain the purpose of this devotion on their website.
The purpose of the Stations of the Holy Eucharist is to help the Faithful deepen both their understanding and appreciation of the Source and Summit of our Faith: The Most Holy Eucharist. Through the whole of salvation history, God Our Father has prepared His people for the Gift of His Beloved Son, and also for the Gift of His Real Presence in the Most Holy Eucharist. Throughout the Old Testament, the Eucharist was prefigured. And in the New Testament these shadows gave way to Reality.
It is a beautiful devotion, one that is rooted in scripture and focused on one of the greatest gifts given to humanity.
Below is one version of the Stations of the Eucharist, highlighting various prefigurements and fulfillments of the Eucharist in scripture.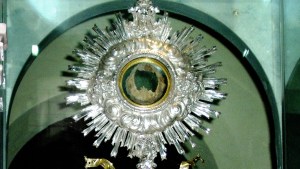 Read more:
4 Incredible Eucharistic miracles that defy scientific explanation
1 – Melchizedek, The King of Salem: Foreshadowing of a Eucharistic Priesthood
2 – The Jewish Passover: The Paschal Lamb, Prefigurement of the Eucharistic Sacrifice
3- The Manna: Prefigurement of the Eucharist, the New Manna
4 – The Old Temple: Prefigurement of the Eucharist, God Dwelling Among Men
5 – Elijah and the Hearth Cakes: Prefigurement of the Eucharist, Food for the Journey
6 – Bethlehem, The House of Bread: Birthplace of the Bread of Life
7 – The Wedding Feast at Cana: Water to Wine, Wine to Blood
8 – Multiplication of the Loaves: The Eucharist, Food for the Multitudes
9 – The Bread of Life Discourse: Jesus, The Bread of Life
10 – The Last Supper: Promises Fulfilled
11 – The Road to Emmaus: Jesus, Recognized in the Breaking of the Bread
12 – The Marriage Supper of the Lamb: The Eucharist Is the Pledge of Eternal Life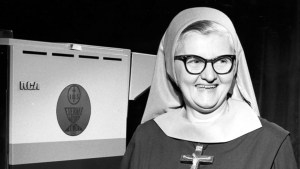 Read more:
On this 1st anniversary of Mother Angelica's death, 20 of her memorable one-liners