Companies are taking the excitement of the sonogram one step further.
Need an idea for Lenten almsgiving?
Help us spread faith on the internet. Would you consider donating just $10, so we can continue creating free, uplifting content?
Make a Lenten donation here
Expecting parents can see their unborn child on an ultrasound, but what if you could hold your pre-born baby, too?
Thanks to some new technology, parents can now hold a 3D print model of their little one.
The Russian company Embryo 3D uses ultrasound images to create a 3D model of unborn children. Seeing one's child on an ultrasound for the first time is always a miraculous moment, but these models are taking it a step further.
You can see more in the video below.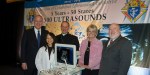 Read more:
Knights of Columbus planning to place 1,000 ultrasound machines by 2019