Good reasons why -- and why not -- you should consider being intentionally single ... at least for a while.
What can God do in your life with one Bible verse a day?
Subscribe to Aleteia's new service and bring Scripture into your morning:
Just one verse each day.
Click to bring God's word to your inbox
Three years ago, I made a decision that changed my love life.
I had spent my last two years of high school anxiously waiting for college so things could get better. Then I spent freshman year crossing my fingers that if I could get the right friends, do the right activities, and be at the right places at the right times, that area of my life things would get better.
It wasn't until winter break of my junior year that I realized that I was fed up with the way I was treating the men in my life. I would catch myself mentally stalking guys, planning a date with them in my head before I even knew their first name, and using them for my emotional benefit. During the winter break of my junior year, I realized that I wasn't ready for a relationship because I was so desperate for an eternal love. I was ready to stuff temporary human love into my life to fill the gap in my heart.
So I didn't go on a single date during that spring semester. No mentally stalking guys. No Pinterest binge nights and rants on how I had everything ready for my future wedding but the guy (which, it turns out, is a pretty important part). I wasn't intentionally single that semester because I'd dated a lot of guys during high school and college and was burnt by it. I didn't go on a dating fast because I'd given up on the idea of dating, or because I'd broken up with the idea of love. I went on a dating fast because I decided that I needed to be intentionally single and take time to work on my relationship with myself (and with God).
Dating fasts are a pretty hot topic. Some say you should avoid them at all costs. Others recommend it at the first sign of relationship woes. However, I benefited immensely from my five-month dating fast and would offer a word of advice to those wondering about how good dating fasts can really be. Entering into an intentional season of singleness – some would call it a dating fast – isn't about swearing off love and hoping to enter into the perfect relationship when the season is over.
Before you think about going on a dating fast, take time to look at these three questions to check and see if would be productive for you:
Why do you want to be intentionally single?
Romantic relationships in today's world can leave you emotionally drained. Between hanging out and hooking up, you can be left frustrated before you even go on a first date. We've forgotten how to relate as men and women in today's culture. But the problems aren't solved by running away from them.
During my intentional season of singleness, I knew that taking a break from dating would give me time to intentionally focus on my relationship with myself and my faith. Dating detoxes shouldn't be done because they're trendy, or seem like a quick fix. Instead, it's a season of life you should enter into only after discernment. It's not a season you'll want to begin without defining expectations for yourself. Take time to pray about, journal, or meditate on the reasons why a dating fast is attractive.
What are your personal goals for this season of singleness?
Without clear goals for your season of singleness, you may find yourself wandering through your dating fast without seeing any real, productive results. "Tired of the disappointments, false starts, and no-gos that seemed inherent in dating, I swore it off altogether. I told myself this was just a break, a dating fast if you will, an opportunity for self-reflection and a chance to recalibrate. I decided to take a step back so that I could take a fresh step forward," Grace Cooper wrote about her dating fast experience. "The trouble is, rather than preparing me to get back out there, my dating fast became a reason not to date at all. Although I hid my true motives under the guise of self-discovery, I was really not dating because I had given up."
During my season of singleness I had four goals for myself: I wanted to focus on building my friendships with the women in my life. I needed to get to the point where I could see the men in my life as people and potentials. In terms of self-care, I was in desperate need of balance and good habits for my spiritual, mental, and physical health. And finally, I wanted to be able to view myself as a whole person, instead of believing the lie that I wouldn't be complete until I'd met Mr. Right.
What are your goals for a dating fast? After you've defined the ways that you want to grow, make another list about how you can achieve those goals. Looking back on my dating fast, I intentionally scheduled time with the women in my life and joined a small women's group. I prayed for the men in my life on a regular basis and got to know their stories. I also worked on better balancing my school work that semester so I wasn't exhausted anytime I met friends or spent time with my family. Finally, I spent intentional time in prayer and started getting spiritual direction.
Are there any past wounds you need to heal from?
Don't enter into a season of singleness just so you have an excuse not to date. If you'd rather not date right now because you need time to heal from a harmful relationship, take time to heal from past wounds. But don't hide behind the mask of a dating fast in the process. "No one is ready to successfully date again unless they have sufficiently healed from their prior heartbreak. Lost relationships must be grieved appropriately but should never doom the hope for a new love," recommends Dr. Randi Guther, a clinical psycholigst and marriage counselor in Southern California. "Those who are still in the throes of sorrow need to wait until they can be honestly optimistic again so they can approach the next relationship ready to give it their best."
There is no one-size-fits-all answer to how to date in today's world. No amount of internet searches or relationship advice books will prepare you for the human, messy, rawness of dating another person. Dating fasts are not a quick-fix answer, nor are they right for everyone. But don't start a dating fast because you're afraid of what a committed relationship would look like, or scared that you're not ready for that in your life.
If done intentionally, dating fasts offer an incredible opportunity for getting to know yourself better. Your soul's capacity to love will expand and effect how you treat everyone else in your life. Regardless of whether you decide to go on a dating fast or not, take time to be intentional in your relationship with others and yourself.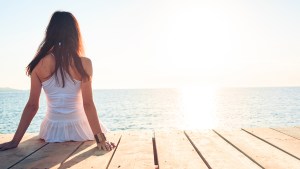 Read more:
7 tips for surviving summer as a single Catholic