It started so innocently, and then before I knew it, I was only half-living my life.
What can God do in your life with one Bible verse a day?
Subscribe to Aleteia's new service and bring Scripture into your morning:
Just one verse each day.
Click to bring God's word to your inbox
It started innocently enough. I fell asleep with the phone in my hand and woke up to the sound of the alarm, phone still in my hand. Before doing anything else, I checked my e-mail, then Facebook, Instagram, and Messenger, spending those first most precious minutes of the day online. The rest of the day wasn't much better. Waiting for a flight, taking public transportation, a boring meeting — the internet was the solution to everything and accompanied my almost every step.
At some point I realized I was on the threshold of making virtual reality my real life. I knew I had to do something; I just didn't know what and how. Finally, I decided to limit my social media access. I failed all too quickly. I'd pull out my phone during every free moment, sometimes out of boredom, sometimes telling myself that I had to check something important. When my original attempt at a break from the internet failed, I tried a more drastic method: I turned off the phone and put it as far away from me as I could. I did the same with my laptop.
The difficulty of being offline
It wasn't easy. The first few hours were rather unpleasant. I felt something was missing, and as silly as it sounds, it felt as if someone had taken away a piece of me. I wanted to check what my friends were doing, if anyone had written to me, the traffic of my blog, how many likes my picture was getting on Instagram, or if there was a super-important email waiting for me that required an immediately reply.
A true breakthrough in my offline life happened during vacation on Palawan Island in the Philippines. Upon arrival, we found out that some villages don't even have hot water, and electricity is on only during certain hours. When I asked for a Wi-Fi password at the hotel, the owner burst out laughing, and looked as if I had asked for the moon.
At first, I was furious. I wondered how, in the 21st century, there could be a place so cut off from the world. And most of all, how could I have even come to a place like this, in the middle of nowhere?
After the first hour, my anger subsided, and a few hours later it changed into acceptance. Since I couldn't do anything about it, I had to spend those three weeks somehow without the internet.
At that moment, I didn't even suspect that being cut off from the online world would create such a revolution in my life. What initially seemed to be an annoying limitation turned out with the perspective of time to be a valuable lesson that allowed me to see many aspects of my life more clearly.
The benefits of my internet "detox"
I became more open to people. 
I talked with almost all the people I met: the fruit vendor, the restaurant owner, the teenager selling coconuts and the old man sitting by the beach entrance. For hours I listened to funny and sometimes very inspiring stories, and I absorbed every second of those moments, aware that they would not come again anytime soon.
Since I was cut off from Google Maps, I had to ask the local kids for directions. They not only happily showed me the way, but they were also very intrigued by my being there and asked a ton of questions — about my name, where I was from, how old I was, and what I wanted to do in Port Barton. I found out more about the culture of the Philippines this way than from any TV programs, guidebooks or travel blogs.
I noticed the beauty of my surroundings. 
I stopped walking thoughtlessly with a phone in my hand taking photos of every palm tree, exotic flower or beach on my way. It turned out that the world was far more beautiful without a glass screen in the way. I saw many details that had escaped my attention previously, like the color of water, which changed depending on the time of day. I trained my eyes and my heart to see these moments of happiness and find them at each step.
I had more time. 
Suddenly I discovered that the day is indeed long enough for everything I want to do …  like finishing all the books patiently waiting their turn, exercise regularly, and having time for prayer and meditation. I even started the novena of Pompeii I had intended to start weeks earlier.
Thanks to this somewhat forced experiment, I realized how much time I had been wasting in front of the computer. I could have used it for much more interesting things.
I felt better.
On the first day, I noticed my eyes stopped tearing. I was more relaxed, and I slept better. Also, I didn't feel this weird inner stress that often accompanied me when I spent too much time in front of the computer. Generally, during those days I felt better; I was in a better mood and had lots of positive energy.
I allowed the internet its proper place.
After my island detox, I stopped treating the internet as an enemy or time gobbler. I noticed its positive sides, and how much easier it makes our lives: for example, the ability to make reservations for airline tickets or hotels without leaving your home. I appreciated it as a source of useful information, as a tool that gives me the ability to listen to my favorite music or have a video conversation with friends and family when we are separated by half the world.
I realized that real life is here and now, not online …
Not long ago I thought that life without the internet would be very boring. I thought that if I were offline, I'd miss lots of important things. But nothing of the kind happened. The world didn't collapse, and after all, I can catch up on my emails or the news anytime.
Now that I've returned to a place where internet is widely available, I still practice the idea of a day offline at least once a week. I highly recommend it to everyone. Even though we think our time online is valuable, the truth is that it will never replace real contact with other people, or just time by ourselves. After all, real life is happening in the here and now, and not on Facebook, Gmail or Instagram.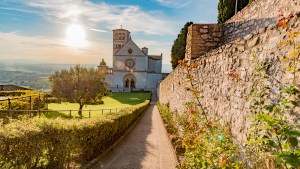 Read more:
Kathryn Jean Lopez reveals what happened to her on a 30-day retreat
Read more:
Teens and screens: How to avoid internet addiction