The pH level of infant stool has risen significantly in the last 100 years -- what this means for your baby.
What can God do in your life with one Bible verse a day?
Subscribe to Aleteia's new service and bring Scripture into your morning:
Just one verse each day.
Click to bring God's word to your inbox
Studying the composition and evolution of the human microbiome (that's the bacteria in your gut, in layman's terms) is becoming increasingly popular among scientists and doctors as our understanding of the importance of good bacteria has grown.
In the wake of the aggressive anti-bacterial movement of the 80s and 90s, doctors and parents began noticing a significant increase in allergies and autoimmune diseases, which lead to an investigation of what exactly we were killing when we killed all this bacteria. What they found is that the human gut is filled with a diverse population of bacteria, and the "good" bacteria balances out the "bad" bacteria. While antibiotics are certainly life-saving, they also wipe out all the bacteria in the gut — including the good kind, which leaves us vulnerable to bad bacteria overpopulation.
Further research into the human microbiome lead scientists back to studies done almost 100 years ago, when doctors were measuring the pH level of infant stool. Popular Science broke down the study published in the March edition of mSphere that found that over the last century, infant stool pH has gone up from an average of 5.0 to an average of 6.5 … a shift that seems small, but on a scale that only ranges from 1 to 14 is quite significant.
The researchers think that this change in pH could be because we have slowly lost that specific strain of bacteria, bifidobacterium, from our guts. Since mothers pass their gut microbiomes on to their babies when they are born, its disappearance in an adult can lead to a brood of bifidobacterium-less kids … But what's so special about bifidobacterium? According to Henrick and her co-author Jennifer Smilowitz, a nutritional biologist at the University of California, Davis, this type of bacteria binds exclusively to human milk oligosaccharides, which are sugars found only in breast milk. The bacteria use these sugars as food so they can grow and reproduce. Once they've taken over the gut (which is normal for the first few years of life) they essentially prevent bad bacteria, like pathogens that make us sick, from taking up residence in the gut.
Scientist theorize that there are three main factors that influence the development of bifidobacterium: whether or not a baby is breastfed, whether the mom gives birth vaginally or via C-section, and how often they get antibiotics. Breastfeeding is particularly important for developing this good bacteria, since it binds exclusively to the sugars in human milk. Babies also pick up important protective bacteria from their mom's birth canal during birth, bacteria that they don't get through C-sections. And all those antibiotics do a good job wiping out the bad bacteria, but they take out the good bacteria along with it.
The real challenge now is figuring out how to create supplements that will add good bacteria to infant's intestinal tract and encourage it to flourish. After all, C-sections, antibiotics, and formula have saved many lives when things don't go the way we hope they will. We should definitely be aware of their drawbacks and only use them when absolutely necessary, but doing away with them entirely would be catastrophic.
Which is why researchers are focusing so hard on examining, understanding, and attempting to replicate and replace the bacteria in a healthy human gut. Hopefully in another century, our babies' pH level will be back down and they will be living healthier, allergy-free lives. In the meantime, we can encourage the growth of healthy bacteria in our own microbiome (and that of our kids!) by limiting sugar, increasing vegetable intake, and avoiding antibiotics whenever possible. Oh — and make some mud pies while you're at it!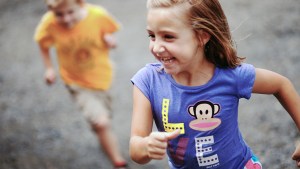 Read more:
Doctors are writing prescriptions … for kids to play outside