It has to do with oxytocin, the bonding hormone.
What can God do in your life with one Bible verse a day?
Subscribe to Aleteia's new service and bring Scripture into your morning:
Just one verse each day.
Click to bring God's word to your inbox
There's a lot of buzz about oxytocin, everyone's favorite hormone. It's the bonding hormone, the one that makes you feel connected to another human being. It's the hormone you feel after orgasm, the one that flows through your veins while your baby is nursing. Oxytocin is part of the reason why every human being needs physical touch so badly–your brain is so sensitive to touch that even petting a dog can bring on the oxytocin, leaving you feeling more relaxed, less stressed, more connected.
We're finding out, though, that it's not just touch that brings on the oxytocin. This is wonderful news, actually!
A bunch of researchers put 61 girls under a very real amount of stress. Scientific American reports that they had them "performing math and public-speaking in front of an audience of strangers" (that would stress me out too). Afterward, they were divided into three groups. One group watched an "emotionally neutral" movie. One group spent 15 minutes with their mothers, who reassured them, and gave them lots of physical affection. The last group got a 15 minute phone call with their mothers.
The study tested the kids' cortisol levels frequently, and the results were surprising.
The ones who watched a movie were still pretty stressed out — high cortisol, low oxytocin. But as for the girls who spoke on the phone to their moms and the girls who spent time in person with their moms, both groups of girls were equally relaxed. They all had much lower cortisol levels, and much higher oxytocin. The ones who received lots of hugs didn't feel any better than the ones who had the verbal equivalent of a hug.
It turns out, it's not just physical touch that helps calm us down and helps us feel bonded with our loved ones. Hearing their voice seems to do this just as well. This research only studied the mother-child relationship, so I don't want to extrapolate too far, but I wouldn't be surprised if in general, hearing the voice of someone who loves you is more powerful than we ever realized.  
In today's world, families are pretty scattered. Not everyone lives close to their parents, siblings, cousins, as they might like. So I took this news to mean two hugely reassuring things …
For one thing, it means that when I'm lonely, I know it's worth the trouble to pick up the phone. It reminds me that calling will do a lot more to help me feel connected than texting, even if I don't feel like it. It reminds me that even though we live pretty far apart, there's still a very real way to stay connected with my family.
But for another, now I have a way to give a big, warm hug to anyone I love. I can't tell you how often I've heard about how somebody I love is having a rotten time, and wished I could show up at their door with a plate of brownies, and wrap my arms around them. I'm pretty thrilled that that dream is more within my reach than I knew.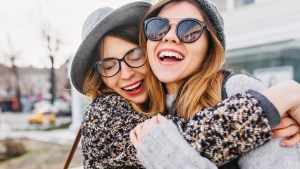 Read more:
3 Ways to put relationships first in your busy schedule