A Catholic parent's guide to social media, gaming, and the war over connectedness.
What can God do in your life with one Bible verse a day?
Subscribe to Aleteia's new service and bring Scripture into your morning:
Just one verse each day.
Click to bring God's word to your inbox
What is one of the most common battles in Catholic homes today? Based on what I've seen and heard, and what a lot of research indicates, the role of social media and video games causes a lot of friction between parents and children, especially as the children get older.
As I write this, I shake my head. It is not entirely correct to say that social media and video games cause battles in Catholic homes, for in many homes, there are no battles—because the parents have surrendered. That is, the place of electronic culture in the home and in the lives of the children is up to the children, with no parental role at all. I've heard parents say, "It's just easier that way." My response is always: "Of course it is, for now …"
Another option is for parents not to let any social media or video games into the home. For some families, that may be the right choice. I'm not inclined to second-guess parents' prudential decisions in this matter. Yet I will add that the electronic culture is everywhere, and it would be well for our kids to have the values, habits and skills to navigate the electronic culture safely.
There are mounds of evidence to show that left unguided, children can become physically and emotionally addicted to the endless stimulations provided by the electronic culture. The sewer of pornography is ever-expanding. The risks of online harassment, bullying and stalking are well-documented. The obligations of adults to keep our kids safe are equally real. What are our resources, and who are our allies?
Last week, I interviewed video game developer Nick Laing on "The Catholic Current" radio program. He has worked in the video game industry for 20 years. He's also a faithful Catholic and a devoted husband and father. I know that because he's my brother-in-law. I reached out to him because it seems to me that his family is doing a lot of smart things when it comes to learning how to navigate safely the world of electronic culture. Below are four "takeaways" from this interview, action-items for concerned Catholic families to consider.
Do things together as a family—just as a family might play Monopoly or Yahtzee together, a family might make a project out of building a city in

Minecraft

.

Watch movies together, and discuss the movies before and after, ideally, over family dinner, taking note of moral lessons from the film—I suggest

Second Hand Lions

 for middle-school kids and

A Man for All Seasons

 for older kids.

Be the gatekeeper for access to electronic culture, setting rules for television, the location and use of computers, and selection of telephones.

Get a life! Play

real board games

together; help the kids to overcome their "

nature deficit

" by family outings into the outdoors; volunteer at a food pantry or help a family in need.

Read together when they're younger; read the same books when they're older—and always discuss what you read (again, ideally, over family dinner). Here's a list of

1,000 books to read with your children

between the ages of 5 and 18.

Pray together

, and learn to keep

Sunday as God's day

and the family's day.
"But Father, what if it's too late? What if my kid has already gotten into mischief online, or has become too attached to social media?" A lot depends on the content, intensity and duration of your child's unhealthy interactions. Educate yourself by reading Pokorny's Redeemed Vision. Be alert to the warning signs of internet addiction. Put monitoring software on family computers—"Protect Young Eyes," "Covenant Eyes" and "Net Nanny" are worth looking into, depending upon your family's circumstances and needs. And I would add: No smartphones for minors!
Read more:
I Am Married to a Video Game Addict
What we should be working towards is raising kids whose hearts, hands and minds have been formed at home to make safe use of electronic tools. And we should be working towards forming our youngsters whose faith and morals have been well formed, so that they can have the character to walk away if their less well-guided contemporaries offer them access to platforms and content that you would not allow into your own home.
Parents have always had to prepare their kids for a dangerous world. Kids today face challenges my parents never dreamed of. We must learn anew how to pray for the protection of our children, and we would do well to seek out allies in our parishes to seek out allies who will stand with us as we teach our kids to be safe, healthy, happy and holy.
When I write next, I will address the question, "Are we failing our boys, and do they need to be rescued?" Until then, let's keep each other in prayer.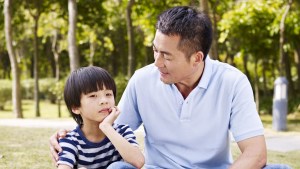 Read more:
What I told my 7-year-old when he asked what porn was